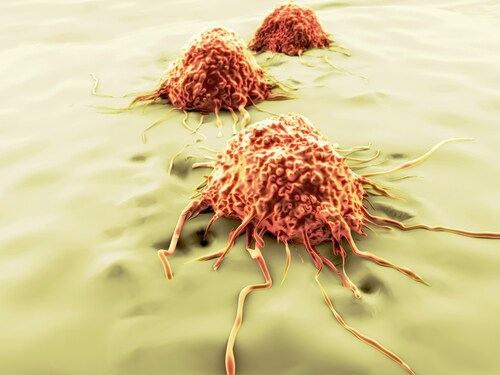 Researchers have known for some time that the tissue surrounding a primary tumor exerts a strong influence on survival and onward progression of cancer. Extracellular matrix (ECM) is a key component in this microenvironment, via its support of the spread and proliferation of tumors. In addition, ECM can form a tissue barrier to chemotherapeutics. Naba and colleagues (2014) have investigated the role ECM plays in establishment of primary colon cancer tumors and their onward metastases in liver tissue by characterizing the proteome—part of the ECM matrisome—of each type.1
Using both malignant and adjacent non-malignant tissues from three pre-chemotherapy patients with colon cancer and metastatic spread to the liver, Naba et al. enriched the proteins extracted from the frozen tissues using subcellular fractionation. The team also used pooled normal liver tissue from healthy donors as controls, since extracting sufficient ECM proteins from patient samples was difficult. They isolated proteins obtained from the ECM fraction, verifying the process by screening for the presence of α-collagen, along with the absence of cellular-derived histones and GAPDH.
Once obtained, the researchers digested the ECM proteins with trypsin, PNGase and Lip-C before fractionating the peptides using off-gel electrophoresis. They then examined the peptide fractions via liquid chromatography–tandem mass spectrometry using an LTQ Orbitrap XL hybrid ion trap-Orbitrap mass spectrometer (Thermo Scientific). By searching spectral data against the UniProt human database, Naba and co-authors could confirm that the proteins came from the ECM and were part of the ECM matrisome.
The scientists found that their extraction procedure was a success, as measured by enrichment of collagen and depletion of intracellular proteins such as GAPDH. They examined the samples in duplicate and found a good overlap in identified proteins. Although the scientists found good overlaps in proteins identified among patients, however, the variability was increased. This proved to be more so for the tumor samples (primary and metastases), which the scientists consider reflects tumor heterogeneity.
Overall, the research team found that ECM from tumor tissue contained more proteins than were found in the normal adjacent tissue. The matrisome of normal colon tissue contained 122 proteins and normal liver contained 105, whereas primary colon and tumor metastases numbered 187 and 135 proteins, respectively. This finding, the team suggests, is consistent with previous research suggesting that desmoplasia, an abnormal proliferation of surrounding tissues and ECM, occurs with some tumors. Comparing the matrisomes for each sample type, they also found that the ECMs of liver metastases are proteomically similar to their primary colorectal tumors.
As a final step, the researchers compared proteomics data from their group of three patients with microarray-based gene expression studies gathered from larger numbers (n=289 primary colon tumors; n=120 metastases). They found that the gene expression data confirmed their proteomics findings. Gene set enrichment showed that subsets of the proteins Naba et al. identified in their proteomics analysis could also be located within the genomic data from the larger cohorts.
Naba and co-authors consider that their data increase the useful range of diagnostic and prognostic biomarkers available for the management of colon cancer. By establishing matrisomes for the tumors and their metastases at the primary and secondary sites, the authors are confident these constitute strong indicators of tumor properties. They propose that future research into this area could aid patient treatment by determining the tumor's probable response or resistance to chemotherapy.
Reference
1. Naba, A., et al. (2014, July) "Extracellular matrix signatures of human primary metastatic colon cancers and their metastases to liver," BioMed Central Cancer, 14 (p. 518), doi: 10.1186/1471-2407-14-518.
Post Author: Amanda Maxwell. Mixed media artist; blogger and social media communicator; clinical scientist and writer.
A digital space explorer, engaging readers by translating complex theories and subjects creatively into everyday language.