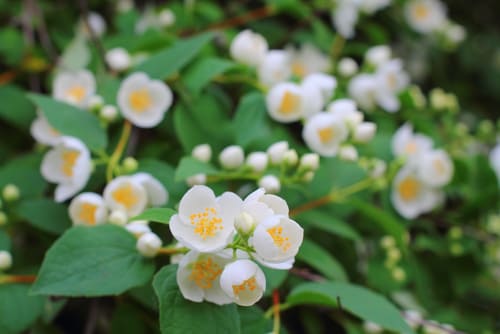 Polymethoxylated flavonoids (PMFs) are a subclass of flavonoids that contain methylated hydroxyls. These edible compounds possess anti-allergic, anti-oxidant, anti-inflammatory and anti-cancer potential. The less-abundant hydroxylated PMFs (OH-PMFs) may be even stronger candidates for health-boosting and have already garnered the interest of the food, nutraceutical and pharmaceutical industries.
Zhang et al. (2014) report the first high-performance liquid chromatography–mass spectrometry (HPLC-MS)-based in vivo analysis of gardenin A (5-hydroxy-6,7,8,3′,4′,5′-hexamethoxyflavone) metabolism.1 In their work, the team characterized a broad spectrum of metabolites and summarized biotransformation pathways that may elucidate the pharmacological value of OH-PMFs in traditional Chinese medicine.
To do this, the researchers extracted gardenin A (205 mg) from dried Murraya paniculata leaves, a traditional Chinese botanic drug. The team suspended the extract in an aqueous solution before oral administration to laboratory rats (60 mg/kg body weight). A second group of rats received oral dosing of the blank aqueous solution. Sixty minutes post-administration, the researchers drew blood samples via the suborbital venous plexus for centrifugation and plasma collection. They also harvested and homogenized samples of the heart, liver, spleen, lungs, kidneys and brain. The team prepped all sample types for optimized HPLC-MS analysis on an Accela 600 pump HPLC system coupled via electrospray ionization interface to an LTQ Orbitrap hybrid ion trap-Orbitrap mass spectrometer (Thermo Scientific). They relied on Xcalibur software (version 1.2, Thermo Scientific) for data acquisition and processing.
For systematic screening and metabolite characterization, Zhang et al. developed a novel strategy. They ran a full scan with data-dependent acquisition to procure MS/MS data sets. Then they turned to Metworks software (Thermo Scientific) and a combination of extracted ion chromatogram and multiple mass defect filtering methods to identify both common and uncommon metabolites. The team also used accurate mass, combined with PMF diagnostic product ions and drug biotransformation data, to discern the structures of the metabolites and elucidate the pathways. Of note, they report the first in vivo observation of methylation, demethoxylation, demethylation, glucuronide conjugation and sulfate conjugation specific to this OH-PMF.
Overall, the scientists reported 26 total metabolites in rat plasma. Of these, they also observed some in heart (20), liver (23), spleen (13), lung (18), kidney (16) and brain (9) samples. The liver emerged as a major organ for metabolism. The team also highlighted a few interesting observations, including that metabolites M12 and M15 appeared in both heart and liver samples, suggesting that these were sites for sulfation reaction. Low-polarity metabolites M17–20 and M21–26 derived from the brain, indicating that these low-polarity species may cross the blood–brain barrier more readily and may therefore be pharmacologically significant.
Zhang et al. report that the LTQ Orbitrap mass spectrometer offered multistage MS spectra using data-dependent analysis, higher mass resolution, and higher mass accuracy, as compared to many other instruments. They offer this first in vivo characterization of gardenin A metabolism, including their novel strategy for quickly assaying major to trace metabolites, with the hope that these data could impact future research into therapeutic side effects, patient safety, and drug delivery.
Reference
1. Zhang, J., et al. (2014, July) "Identification of metabolites of gardenin A in rats by combination of high-performance liquid chromatography with linear ion trap–Orbitrap mass spectrometer based on multiple data processing techniques," Biomedical Chromatography, doi: 10.1002/bmc.3287 [e-pub ahead of print].
Post Author: Melissa J. Mayer. Melissa is a freelance writer who specializes in science journalism. She possesses passion for and experience in the fields of proteomics, cellular/molecular biology, microbiology, biochemistry, and immunology. Melissa is also bilingual (Spanish) and holds a teaching certificate with a biology endorsement.