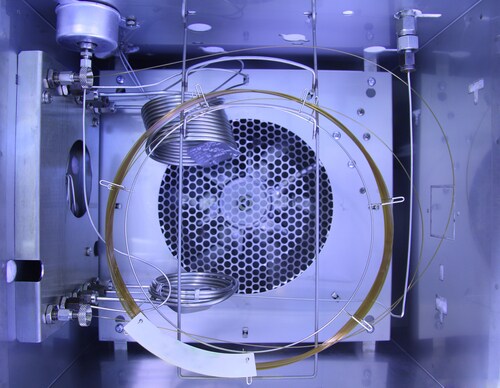 Investigating what goes on inside a cell in terms of metabolic pathway activity is a key approach in disease research, but for robust experimental design, this means dealing with extremely large numbers of samples. Researchers' observations indicate that gas chromatography–mass spectrometry (GC-MS) technology has the potential for handling large numbers of samples for efficient experimental design. However, accurately identifying the unknown peaks encountered can be problematic in discovery metabolomics, resulting in abandoning vast chunks of data, since routinely only 5% to 15% of mass spectral features are ever fully identified.
In an effort to prevent widespread data loss and increase the efficiency of GC-MS–based metabolomics experimental design, Peterson and co-authors (2014) devised two new technologies for the task and combined them with a new experimental workflow that incorporates an "intelligent" data-dependent algorithm.1
The researchers designed a molecular-ion detected acquisition (MIDA) program that would process spectra more efficiently by maximizing the data coming from the tandem mass spectrometry (MS/MS) analysis. Before the experimental run, users choose a MIDA process template, basing their decision on analytical conditions. First, they consider the sample derivatization process used (i.e., reagents such as MSTFA used to prepare the original material for quantification) and the metabolites expected from this chemical reaction. In conjunction with the ionization method employed, MIDA then develops a scoring scheme for metabolite identification that is based on the template selected and the MS/MS spectra acquired.
The authors first combined gas chromatography with a Q Exactive hybrid quadrupole-Orbitrap mass spectrometer (Thermo Scientific) for GC-MS/MS high-resolution, accurate-mass analysis of derivatized metabolites.2 By adapting the instrumentation firmware, they enabled data processing using their data-dependant algorithm, MIDA. With the unsupervised MS/MS, this tool functions with selected ion monitoring (SIM) to target ions possessing the greatest information content. Combined with in vivo stable isotopic labeling (SIL) using 13C and 15N, and incorporating multiple derivatizations, the authors were able to apply their new system to both discovery and targeted metabolomics strategies.
Following validation using different derivatization procedures for extracting polar metabolites, the team examined the data using Xcalibur Qual Browser software (version 2.3.23, Thermo Scientific) with subsequent Seven Golden Rule filtering, as developed by Kind and Fiehn.3
Once satisfied with their methodology and data processing, the authors tested the new workflow using polar metabolites derived from Arabidopsis thaliana. Following data processing using the MIDA tool, they confirmed results obtained by manual annotation of the data sets, as performed by two separate researchers.
The researchers found close agreement between results generated automatically by the algorithm and those calculated manually (93.6% and 91.3% accuracy between MIDA-generated results and those obtained from manual annotation for one set of experimental conditions, and 88.3% accuracy in another). They obtained plausible identifications for over 80 A. thaliana metabolic compounds. Furthermore, additional information on the number of C and N atoms per molecule derived from the in vivo SIL allowed for more accurate determination of metabolites.
Overall, Peterson et al. conclude that their enhanced instrumentation and corresponding analytic workflow represent a potentially useful solution that could overcome the inherent challenges of spectral interpretation and identification that face discovery metabolomics today.
References
1. Peterson, A.C., et al. (2014, October) "Development of a GC/Quadrupole-Orbitrap mass spectrometer, Part II: New approaches for discovery metabolomics," Analytical Chemistry, 86(20) (pp. 10044–51), doi: 10.1021/ac5014755.
2. Peterson, A.C., et al. (2014, October) "Development of a GC/Quadrupole-Orbitrap mass spectrometer, Part I: Design and characterization," Analytical Chemistry, 86(20) (pp. 10036–43), doi: 10.1021/ac5014767.
3. Kind, T., and Fiehn, O. (2007) "Seven golden rules for heuristic filtering of molecular formulas obtained by accurate mass spectrometry," BioMed Central Bioinformatics, 8 (p. 105), doi: 10.1186/1471-2105-8-105.
Post Author: Amanda Maxwell. Mixed media artist; blogger and social media communicator; clinical scientist and writer.
A digital space explorer, engaging readers by translating complex theories and subjects creatively into everyday language.