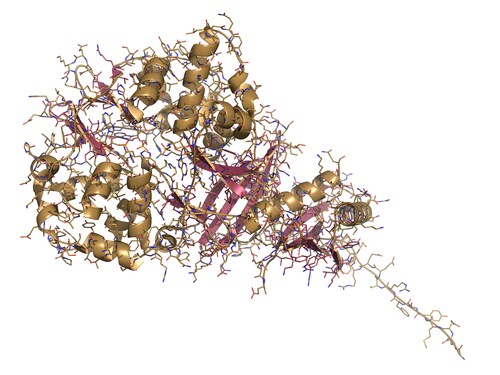 Kinases are the enzymes required for protein phosphorylation, an important and widespread post-translational modification that occurs in many tissues. Activation or inactivation of kinases or changes in kinase expression are commonly seen within cancerous tissues. Therefore, kinases are of particular relevance in drug discovery, since these enzymes are popular targets for chemotherapy.
With the recent availability of databases cataloging inhibitor potencies and specificities, matching a therapeutic agent to the individual kinase relevant to each cancer is theoretically possible. However, each cancer type and stage has its own specific kinome, confounding broad generalization in treatment delivery.
Cases often involve many different kinases, so multiplex assays are desirable; however, current methods involve individual immunoassay for each kinase. This low-throughput technique has not been applied widely for developing clinical strategy, due to time constraints and expense. Profiling the entire kinome is also difficult, due to low abundance of enzymes and their existence within complex matrices. Xiao and colleagues (2014) report a new enrichment-based proteomics technique suitable for global kinome profiling in individual cancers.1 This should make predicting anti-kinase actions and therapeutic targeting for personalization of treatment strategy a possibility.
The researchers' method involves tagging with an ATP-affinity probe, followed by a targeted proteomics approach involving multiple reactions monitoring (MRM) to quantify the kinases identified. Using this method, the team categorized over 300 kinases, including approximately 250 measured in a single cell lysate. Furthermore, their multiplexed assay measured inhibitor activity in addition to showing target kinase abundance.
Xiao et al. validated their assay using cultured human epithelial HeLa cells, as well as tissue from human lung cancer and adjacent healthy control tissue. Once they obtained protein lysates from each sample, the researchers labeled each preparation with light and heavy desthiobiotin-based Isotope-Coded ATP-affinity Probe (ICAP) tags. Trypsin digests of each sample were enriched by avidin-agarose separation before liquid chromatography–tandem mass spectrometric analysis (LC-MS/MS) using an LTQ Orbitrap Velos hybrid ion trap-Orbitrap mass spectrometer (Thermo Scientific).
Researchers used the Orbitrap mass spectrometer-generated tandem mass spectra in conjunction with data from earlier studies on other human cell line kinases to create an interactive Skyline spectral library file. This was used for targeted transition monitoring in a TSQ Vantage triple stage quadrupole mass spectrometer (Thermo Scientific) in MRM mode as a quantitative kinase assay.
The team discovered 386 peptides from 313 kinases during LC-MS/MS and MRM analyses of the HeLa cell lysates. The researchers repeated their assay using human lung fibroblast IMR-90 cells to assess repeatability and sensitivity, identifying 242 of the 386 kinase peptide fragments in their library, which represents 227 human kinases.
Xiao and co-workers then turned to investigating two melanoma cell lines, characterizing the kinome of WM-115 and WM-266-4. These cell lines were derived from primary (WM-115) and secondary (WM-266-4) tumors in the same patient and showed differential sensitivity to the anti-proliferative actions of the tyrosine kinase inhibitor and chemotherapeutic agent, dasatinib. The scientists assayed the prepared cell lysates using their LC-MRM technique, identifying 256 different kinases in the populations. In contrast, using a shotgun proteomics approach that did not involve tagging or enrichment, the team only identified 136 kinases in the samples. When quantified, 48 kinases showed differential expression patterns that explained the reduced sensitivity to dasatinib seen in WM-266-4. Kinases sensitive to dasatinib were expressed strongly in the WM-115 cells and downregulated with little expression/activity in the WM-266-4 cell line. The researchers then explored the correlation between kinase expression and activity, and the cellular response to chemotherapy by choosing kinase inhibitors indicated by the kinome profiles elucidated in their assay. WM-266-4 growth was reduced when cells were treated with kinase inhibitors that had been targeted to kinases shown to be strongly expressed.
As a final step to demonstrate clinical relevance for their procedures, Xiao et al. examined kinome profiles in lung biopsy samples— cancerous and adjacent normal tissue—from patients with pulmonary malignancies. They identified only 98 kinase peptides, concluding that more abundant proteins in the samples were interfering with the assay results. As seen in earlier studies, the researchers found that kinase expression was increased in tumor tissue, as compared with the control.
In conclusion, the authors are confident that their kinome profiling strategy is clinically relevant and can lead the advance into personalization of treatment options for many patients with many different cancers. Moreover, by demonstrating its use in tissue samples, they showed its potential in samples not appropriate for metabolic labeling studies.
Reference
1. Xiao, Y., et al. (2014, April) "A Targeted Quantitative Proteomics Strategy for Global Kinome Profiling of Cancer Cells and Tissues," Molecular and Cellular Proteomics, 13(4) (pp. 1065–75), doi:10.1074/mcp.M113.036905.
Post Author: Amanda Maxwell. Mixed media artist; blogger and social media communicator; clinical scientist and writer.
A digital space explorer, engaging readers by translating complex theories and subjects creatively into everyday language.