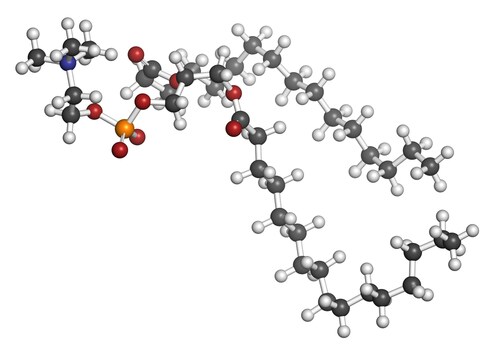 Software tools used to identify lipids from tandem mass spectrometry (MS/MS) spectra are often expensive or lack the sophistication of their proteomics counterparts. Kochen et al. (2016) have developed a new open-source tool, Greazy, to automate phospholipid identification, similar to the methods used in proteomics.1 In proteomics, peptide sequences are routinely identified from MS/MS spectra using database search algorithms that employ simple rules to predict fragmentation patterns. However, lipids have greater structural diversity than peptides.
The LIPID Metabolites And Pathways Strategy (LIPID MAPS) database categorizes more than 37,000 lipids into eight lipid categories that are further divided into dozens of subclasses, each of which ionizes and fragments in a distinct manner. As a result, predicting the appearance of MS/MS spectra for lipids requires greater attention than in proteomics, and the number of fragments seen for a given compound is generally smaller.
To begin, Kochen et al. acquired data from lipids extracted from bone marrow stem cells from the Department of Biochemistry at the University of Texas Health Science Centre at San Antonio. The investigators subjected the lipids to reversed-phase liquid chromatography (LC) coupled to a Q Exactive mass spectrometer (Thermo Scientific). They performed analysis in both positive and negative ion modes and then used LipidSearch software, revision 4.0.14, (Thermo Scientific) to perform lipid identifications. Similarly, the original investigators obtained lipids extracted from alveolar type 2 epithelial cells from the Pacific Northwest National Laboratory. These had been analyzed using an LTQ Orbitrap Velos mass spectrometer (Thermo Scientific). Finally, they obtained data from human serum from the Mycobacteria Research Laboratories within the Department of Microbiology, Immunology & Pathology at Colorado State University.
Using the National Institute of Standards and Technology (NIST) 2014 small molecule MS/MS library as a set of reference spectra, Kochen et al. validated their fragmentation models and scoring algorithms within Greazy. They then compared Greazy's results to those from LipidSearch, a leading commercial lipid identification software platform, in an experimental data set derived from a bone marrow cell line. Greazy defines the search space—that is, the greatest difference between proteomic database search and a lipid search—via user parameters. The researchers found that fatty acyl configurations impact the search space size most significantly. For example, the search space for lipids with one fatty acyl chain grows linearly. However, the search space for lipids with two chains grows with the square of possible chain lengths.
The investigators filtered the NIST library for spectra that corresponded to phospholipids and split the data into two sets based on the polarity of the ions. They performed searches in both positive and negative ion modes. Greazy correctly identified 157 (92%) out of 170 distinct lipids with MS/MS spectra in at least one of the positive or negative ion data sets. Across lipid classes Greazy correctly identified at least 87.5% of the detectable precursors for each class in the search space.
Greazy uses a combined peak matching score based on the hypergeometric distribution (HGD) with an optional intensity score that takes into account the percentage of the total ion current. Using only the HGD score increased the number of false compounds identified (by 21.5% and 31.9% in positive and negative ion mode, respectively) while reducing the number of true compounds identified in negative ion mode (by 4.8%).
Kochen et al. explain that Greazy is highly effective at identifying lipids and can complete its analysis of an LC-MS/MS experiment in much less time than is required to collect the data at the mass spectrometer.
Reference
1. Kochen, M.A., et al. (2016) "Greazy: Open-source software for automated phospholipid tandem mass spectrometry identification," Analytical Chemistry, 88(11) (pp. 5733–41), doi: 10.1021/acs.analchem.6b00021.