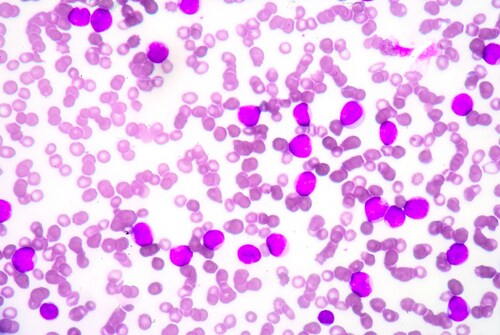 Recipients of both autologous (recipient is also the donor) and allogeneic (outside donor) hematopoietic stem cell transplants (HSCT) are susceptible to both infection and the non-infectious lung injury idiopathic pneumonia syndrome (IPS). These pulmonary complications, which generally occur within similar time frames, may result in post-transplantation mortality and morbidity.
Bhargava et al. (2016) recently used label-based quantitative protein profiling of HSCT patient bronchoalveolar lavage fluid (BALF) for the purpose of characterizing proteins (and associated biological processes) capable of differentiating IPS from infectious injury.1 Toward this end, they used isobaric tags for relative and absolute quantification (iTRAQ) to label 30 BALF samples (18 infectious lung injury, 12 IPS). Then they performed both hemoglobin removal and high-abundance protein depletion before liquid chromatography-tandem mass spectrometry (LC-MS/MS) on an Orbitrap Velos mass spectrometer (Thermo Scientific) over the course of five experiments.
The team reported identification of 1,125 total unique proteins; of these, 368 appeared in all five experimental runs. They compiled a master reference list of 793 proteins and determined differential expression of 96 of these between all patients with IPS (both autologous and allogeneic HSCT) as compared with patients with infectious lung injury. When the team removed the two subjects associated with autologous HSCT (one in each injury group), they detected 127 differentially expressed proteins.
The researchers performed functional annotation clustering analysis and pathway analysis of the differentially expressed proteins and reported these top five molecular and cellular functions: cellular movement, cell-to-cell signaling and interaction, cell death and survival, free radical scavenging, and lipid metabolism. They further found that four of the top five canonical pathways in this study were the same as those previously reported2 as relevant to IPS using MS on blood samples: acute phase response signaling, complement system, liver X receptor (LXR)/retinoid X receptor (RXR) activation, and farsenoid X receptor (FXR)/RXR modulation. This lends support to the idea that BALF is a useful biofluid for pulmonary injury discovery studies.
The team highlighted the following as the top five upstream regulators of differentially expressed proteins: nitrofurantoin, PD98059 (ERK/MAPK regulator 2-(2-amino-3-methoxyphenyl)- 4H-1-benzopyran-4-1), lipopolysaccharide (LPS), FOXA2 (forkhead box A2) and tretinoin. They also found tumor necrosis factor (TNF) played a major role in IPS development, acting as an upstream regulator for 25 of the differentially expressed proteins and modulating two canonical pathways (FXR/RXR activation and IL-12 signaling/production in macrophages). The researchers indicate that this data could suggest mechanisms that underlie why TNF blockade is effective for some patients with IPS but not others.
Bhargava et al. offered this data as a characterization of the differences in the BALF proteome between patients with infectious lung injury and IPS. They indicated that this study, combined with future studies using larger cohorts, could assist in the identification of novel therapeutic targets.
References

1. Bhargava, M., et al. (2016 ) "Proteome profiling in lung injury after hematopoietic stem cell transplantation," Proteome Profiling in Lung Injury after Hematopoietic Stem Cell Transplantation, 22(8) (pp. 1383–1390). doi: 10.1016/j.bbmt.2016.04.021.

2. Schlatzer, D.M., et al. (2012) "Human biomarker discovery and predictive models for disease progression for idiopathic pneumonia syndrome following allogeneic stem cell transplantation," Molecular Cellular Proteomics, 11 (pp. 1–15). doi: 10.1074/mcp.M111.015479.
Post Author: Melissa J. Mayer. Melissa is a freelance writer who specializes in science journalism. She possesses passion for and experience in the fields of proteomics, cellular/molecular biology, microbiology, biochemistry, and immunology. Melissa is also bilingual (Spanish) and holds a teaching certificate with a biology endorsement.