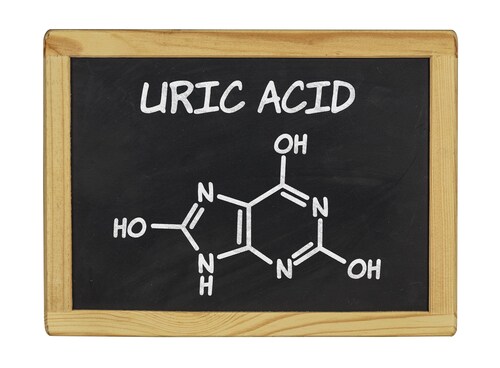 Elevation of circulating uric acid levels (hyperuricemia) can arise from kidney dysfunction, among other causes. Hyperuricemia is known to cause endothelial damage, although the exact mechanism has not been fully elucidated. Recently, Zhang and colleagues used a proteomics technique, stable isotope labeling by amino acids in cell culture (SILAC), to explore the response of human umbilical vein endothelial cells (HUVEC) to sustained elevated uric acid concentrations. Their findings demonstrate the role of aldose reductase (ALDR) and reactive oxygen species (ROS) in this vascular disease, uncovering a possible pathway in the pathogenesis of endothelial damage.
The scientists grew HUVEC cultures in the presence of high concentrations of uric acid (HUA) and used a SILAC labeling protocol before harvesting material for liquid chromatography–tandem mass spectrometric (LC-MS/MS) analysis. Compared to HUVEC cultures grown under control conditions without uric acid, the HUA cell proteomes showed altered protein expression.
In total, the researchers found that 39 proteins were differentially expressed. When they searched the data against the NCBI human RefSeq database (v.2011) using SEQUEST v.28 of Bioworks 3.31, they found that ALDR showed the greatest elevation with HUA (up-regulated approximately 18-fold). Zhang and co-authors also used Gene Ontology and Pathway analyses to determine functional relevance of the proteins involved and the pathway interactions, especially for ALDR, in the cellular response to HUA.
Along with the elevation in ALDR, the researchers also found that ROS levels increased in HUA cells. Using an oxidant-sensing fluorescent probe (CMH2 DCFDA), they measured increased intracellular levels by laser confocal microscopy. However, Zhang et al. found that they could abolish this response to HUA by transfecting the HUVEC cells with small interfering RNA constructs (siRNA) that inhibited ALDR release. They confirmed that ALDR was indeed inhibited, using Western blotting to measure protein levels in the cultured and transfected cells.
The researchers also looked at ALDR expression in vivo, using intraperitoneal injections of uric acid to create a hyperuricemic mouse model. After 14 days, the researchers slaughtered the mice and dissected out their aortas for analysis. They then confirmed that intraperitoneal administration successfully raised uric acid levels in plasma before using immunohistochemistry to show that ALDR levels in HUA aorta tissue were higher than in the controls.
Noting that previous studies have already implicated ALDR in vascular damage due to other diseases, the researchers are confident that their findings in HUVEC cell culture and in vivo contribute to a better understanding of uric acid-mediated endothelial damage.
Reference
1. Zhang, Y., et al. (2014) "ALDR Enhanced Endothelial Injury in Hyperuricemia Screened using SILAC," Cellular Physiology and Biochemistry, 33 (pp. 479–90).
Note
The methodology for LC-MS/MS is found in this earlier paper: Quan, H. (2011) "Differentially Expressed Protein Profile of Renal Tubule Cell Stimulated by Elevated Uric Acid Using SILAC Coupled to LC-MS," Cellular Physiology and Biochemistry, 27 (pp. 91–8).
Post Author: Amanda Maxwell. Mixed media artist; blogger and social media communicator; clinical scientist and writer.
A digital space explorer, engaging readers by translating complex theories and subjects creatively into everyday language.