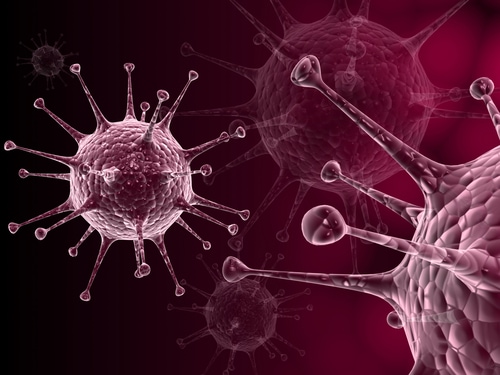 Many reoccurring themes are present during the viral infection of a cell, the most highly conserved being the immediate hijacking of cellular machinery to preferentially replicate components of the virus, in order to perpetuate infection. Herpes simplex virus type 1 (HSV-1), a widespread human pathogen, initiates this process through the action of two surface proteins, pUL46 and pUL47.1 The molecular action of both pUL46 and pUL47 controls the expression of specifically timed viral genes needed for the infection cycle. Even though it is known that these proteins are required for coordinated expression of immediate–early infection genes of HSV-1, the precise mechanism of pUL46 remains unclear.
In order to better understand the roles pUL46 plays in the infection cycle of HSV-1, Lin et al. (2013) used a combination of mass spectrometry and high-resolution microscopy to identify interacting partners, a temporal–spatial arrangement for the protein, and possible mechanisms of action for pUL46.2 Time-lapse fluorescent microscopy of a green-fluorescent protein (GFP)-fused pUL46 was tracked in human fibroblast cells post-infection, from 2 to 24 hours. The pUL46-GFP fusion protein was able to complement the wild-type protein. Fluorescent microscopy demonstrated that the fusion protein accumulated in the cytoplasm at perinuclear regions, which is in good agreement with previous studies.
Immunoprecipitation of pUL46 in complex with other proteins revealed a large number of interacting partners from both the host (human cell) and other viral proteins. Using an LTQ Orbitrap Velos hybrid ion trap-Orbitrap mass spectrometer or an LTQ Orbitrap XL hybrid ion trap-Orbitrap mass spectrometer coupled online to a Dionex UltiMate 3000 UHPLC (all Thermo Scientific), the researchers identified interacting proteins. One viral protein with which pUL46 interacted was ICP0, which is an E3 ubiquitin ligase. Interaction with ICP0 results in the ubiquitination of pUL46, targeting it for partial degradation of the protein by the proteasome complex.2 This is the first demonstration of a viral protein targeting another viral protein for degradation by endogenous host proteolytic machinery. The immunoprecipitation experiments additionally revealed that pUL46 is heavily post-translationally modified; 23 different phosphorylation sites were identified on the protein. Analysis of the context surrounding one of the phosphorylation sites revealed a conserved 14-3-3 motif found in many eukaryotic kinases. This observation is consistent with the identification of different host kinases during the immunoprecipitation experiments.2 The collective result indicates that pUL46 is tightly regulated through expression, degradation and post-translational modification, throughout the lifecycle of HSV-1.
The work presented in Lin et al. represents an advance in the understanding of the infection cycle of HSV-1. Greater understanding of the mechanisms of temporal regulation of gene expression during viral infection and the spatial–temporal arrangement of virus proteins within the cell are critical for a complete view of pathogenesis, identification of biomarkers and accurate diagnosis of infection and stage of infection.
References
1. Whitley, R.J., and Roizman, B. (2001) "Herpes simplex virus infections," Lancet, 357 (pp. 1513–8).
2. Lin, A.E., Greco, T.M., Döhner, K., Sodeik, B., and Cristea, I.M. (2013, November) "A proteomic perspective of inbuilt viral protein regulation: pUL46 tegument protein is targeted for degradation by ICP0 during herpes simplex virus type 1 infection," Molecular & Cellular Proteomics, 12 (pp. 3237–52).
Post Author: Adam Humbard.