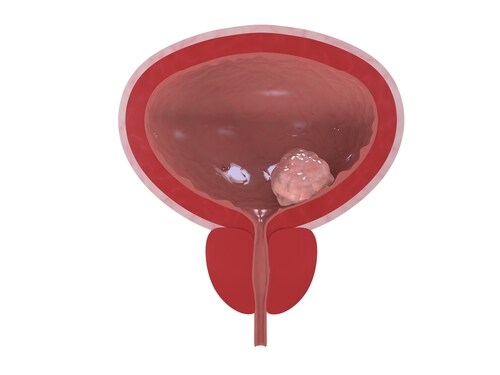 Bladder cancer is the fifth most common cancer. At the time of diagnosis more than 70% of patients will have non-muscle-invasive cancer, and about 25% will present with muscle invasion. The risk of distant metastases and poor prognosis is significant (as high as 50%) in patients with muscle-invasive bladder cancer. Identifying biomarkers that put a patient at risk of progressing to muscle-invasive or metastatic disease may enable early stratification for more aggressive treatments.1 Yang et al. compared the proteomes of HCV29 (normal bladder epithelia), KK47 (low-grade non-muscle-invasive bladder cancer) and YTS1 (metastatic bladder cancer) with the aim of identifying such biomarkers.
The investigators grew cultures of each of the three bladder cancer cell types and used stable isotope labeling by amino acids (SILAC) to produce labeled cell populations. They lysed the cells to extract their proteins and separated them by 10% SDS-PAGE (sodium dodecyl sulfate polyacrylamide gel electrophoresis). They then excised gel slices containing the proteins.
Yang et al. used an LTQ-Orbitrap mass spectrometer (Thermo Scientific) to perform 2-dimensional liquid chromatography–mass spectrometry (2D-LC-MS), where they completed one full MS scan (300–1,800) in the Orbitrap mass analyzer followed by five MS/MS scans of the five most intense ions selected from the MS spectrum. They also enabled charge state screening for +2, +3, +4 and above. Through this process, they identified 3,721 unique proteins across two independent replicate experiments. Of these, 47.5% (n=1,766 proteins) were common to both experiments, and the team subjected these to further analysis. They found that the expression of 255 proteins was higher in both KK47 and HCV29, while expression of 434 proteins was lower in both KK47 and HCV29, which they confirmed through Western blotting.
Using gene ontology term and pathway analysis, they found the most common molecular functions of the proteins were calcium ion binding (16 proteins), structural molecule activity (11 proteins) and identical protein binding (10 proteins). Biologically, these related to cell adhesion (14 proteins), biological adhesion (14 proteins), response to wounding (13 proteins) and immune response (13 proteins).
By performing an Ingenuity Pathways Analysis, the investigators determined that upregulated proteins in bladder cancer cells played roles in several different networks. Notably, the top network players included DNA replication, amino acid metabolism, molecular transport, hereditary disorders, cell growth and proliferation, and post-translational modification and cancer. Similarly, the top network functions that were downregulated proteins in bladder cancer cells included cellular movement and immune trafficking, lipid metabolism, cellular development, growth and proliferation, and cell death and survival. The authors suggest this indicated that bladder cancer cell proteomes were continuously shifting depending on the stage of cell metastasis.
Overall, the authors found 110 differential proteins of significance; 36 upregulated in low-grade non-muscle-invasive bladder cancer and metastatic bladder cancer, and 74 that were downregulated.
Reference
1. Yang, G., et al. (2015) "Quantitative analysis of differential proteome expression in bladder cancer vs. normal bladder cells using SILAC method," PLoS One, 10(17), doi: 10.1371/journal.pone.0134727