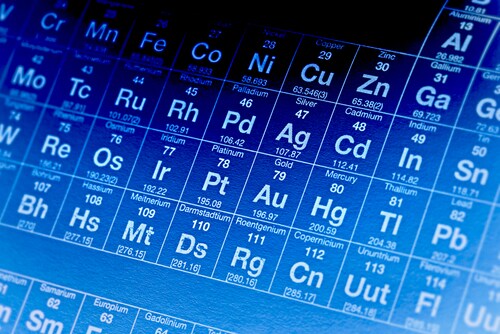 Elemental transition metals iron (Fe), zinc (Zn), nickel (Ni), cobalt (Co) and copper (Cu) are important cofactors in biological pathways. Because metal-binding ligands can control the availability and reactivity of metal ions, identifying metal species can provide new insight into these pathways. Recently, Tsednee et al. applied a combination of electrospray ionization and tandem mass spectrometry (ESI-MS/MS) on an ESI-coupled Orbitrap Elite mass spectrometer (Thermo Scientific) to analyze free metals resulting from metal–ligand complexes.1
The authors note that previous studies using ESI-MS focused on metal-specific isotopic signatures or isotopic patterns of the metal complex spectra. In this investigation, the researchers analyzed prepared standard meta metal–deoxymugineic acid (–DMA) and metal–nicotianamine (–NA) complexes.
In MS1, researchers identified metal–DMA/NA complexes with singly charged metal species in a metal–ligand stoichiometry of 1:121,22. The researchers obtained formulations of the complexes as [M-H + Me(II)]+ and [M-2H + Me(III)]+ for divalence and trivalence metal–ligand complexes, respectively. They report that the metal complexes identified in MS1 with a high degree of accuracy (< 5 ppm), calculated from the comparisons of the calculated and observed m/z of metal–DMA/NA complexes. Additionally, they found the complex isotopic signatures showed high accuracy in MS1, with < 10% errors in relative isotopic abundance.
Next, in MS2, the team obtained product ion spectra based on the free metals released from the corresponding metal–DMA/NA complexes during fragmentation. They confirmed the presence of the released free metals by the atomic mass of the metal and the isotopic signatures. All of these metals had a high accuracy except for the low-abundant 57Fe isotope.
Compared with MS1, the mass accuracy of free metal isotopes in MS2 showed relatively low values (< 10 ppm and < 14 ppm for major and minor isotopes, respectively). Nevertheless, the team maintains that these values could still provide an accurate mass measurement in MS2.
The researchers then analyzed different metal–DMA/NA complexes simultaneously in one sample by preparing a mixture of five different metal–DMA and metal–NA complexes at two physiological pH conditions, pH 5.5 and pH 7.5, as near-typical plant xylem and phloem pH values, respectively.
Among the identified metal–DMA complexes, DMA formed the most abundant complex with Cu(II) at both pH 5.5 and pH 7.5. The relative abundances of the Cu(II)–DMA precursor complex and its released free Cu spectra were both higher than that of other metal–DMA complexes, including Fe(III)–DM. The relative abundance of metal–NA complexes, such as Fe(III)–NA, Cu(II)–NA and Ni(II)–NA, varied slightly under the two different pH conditions. Cu(II)–DMA/NA complexes were also the most abundant forms under limited DMA and NA conditions. Because of the poor detection sensitivity of the released free Zn spectra from Zn–DMA/NA complexes, the authors did not include it among the released free metals.
The researchers then applied this method to analyze a sample of plant shoot extracts. They identified three metal–DMA complexes, Fe(III)–DMA, Cu(II)-DMA and Zn(II)–DMA, and three metal–NA complexes, Fe(III)–NA, Fe(II)–NA and Zn(II)–NA, in shoot extracts of japonica rice.
This data demonstrate a highly accurate method involving ESI-MS/MS for identifying metal species by the release of free metals from the metal–ligand complexes.
Reference
1. Tsednee, M., et al. (2016) "Identification of metal species by ESI-MS/MS through release of free metals from the corresponding metal-ligand complexes," Scientific Reports, 6 (26785), doi: 10.1038/srep26785.
Post Author: Emily Humphreys. Emily has previous research experience in eye development, infectious diseases, and aging. Emily has been a regular contributor to Accelerating Science since 2012.