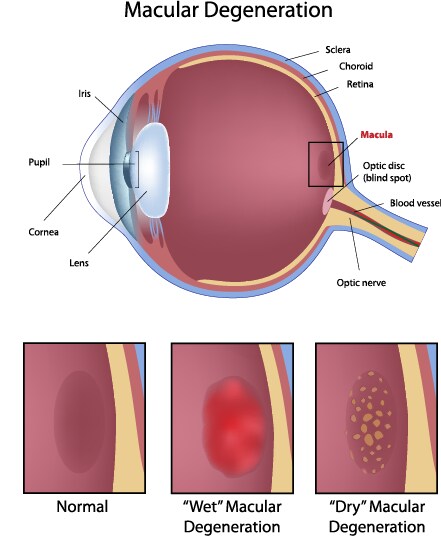 Koss and co-authors (2014) have responded to the call for biomarkers indicative of exudative age-related macular degeneration ("wet AMD") with a comprehensive mass spectrometric-based proteomic analysis of vitreous humor.1
Initially, the researchers worked with a set of 88 vitreous samples obtained from patients during diagnostic procedures and prior to any treatment. Seventy-three of these samples came from individuals diagnosed with wet AMD and the remaining 15 from patients with idiopathic "floaters" in the vitreous body.
First, the scientists tried a top-down approach, sonicating the vitreous samples to disrupt hyaluronic acid aggregates. They then subjected the prepared samples to capillary electrophoresis–mass spectrometry (CE-MS), intending to detect low molecular weight proteins and fragments less than 20 kDa. When this preparatory approach yielded minimal results, the researchers introduced a trypsin digestion step between sonication and CE-MS analysis. (Apparently, the high levels of hyaluronic acid present in vitreous samples interferes with MS detection of proteins.)
With the initiation of the bottom-up procedure, Koss et al. then continued their vitreous proteome analysis. The researchers used liquid chromatography–tandem mass spectrometry (LC-MS/MS) to confirm protein and peptide identities detected by CE-MS in five randomly chosen AMD and control vitreous samples. They completed this step using a Dionex UltiMate 3000 nanoLC coupled to an Orbitrap Velos hybrid FT mass spectrometer (both Thermo Scientific).
This bottom-up approach yielded 622 tryptic peptides—corresponding to 97 unique proteins—from those identities that had been detected by CE-MS vitreous sample analysis. The scientists discovered that most of the proteins were plasma-derived and that 19 showed elevated abundance in the wet AMD samples.
Unfortunately, Koss et al. could not achieve statistical significance for this result using further examination of protein abundance. They selected five proteins from the 19 upregulated proteins for further investigation via Western immunoblotting. The researchers only obtained a significant increase, compared with control samples, for α1-anti-trypsin in AMD patients (p=0.02), although they acknowledge that it is not a biomarker exclusive to the disease. The researchers believe that this lack of statistical significance is due, in part, to the small sample numbers used in the further investigation of the disease.
Nevertheless, functional analysis using Gene Ontology and interactome analysis showed that the upregulated proteins were involved in ion transport, secretion/exocytosis and protease inhibition, among other cellular processes. Interactome analysis easily delineated a close network of 54 additional proteins, encompassing acute-phase and inflammatory response pathways.
Although many of the results in this study did not achieve statistical significance, the authors are confident that their work gives a good insight into the pathophysiology of wet AMD. Koss et al. strongly suggest requiring additional validation and larger study numbers. The researchers note, however, that the interactome analysis shows involvement of a functionally connected network, pointing to key dysregulated processes of disease progression.
Reference
1. Koss, M.J., et al. (2014, May) "Proteomics of Vitreous Humor of Patients with Exudative Age-Related Macular Degeneration," PLOS ONE, 9(5) (p. e96895), doi:10.1371/journal.pone.0096895.
Post Author: Amanda Maxwell. Mixed media artist; blogger and social media communicator; clinical scientist and writer.
A digital space explorer, engaging readers by translating complex theories and subjects creatively into everyday language.