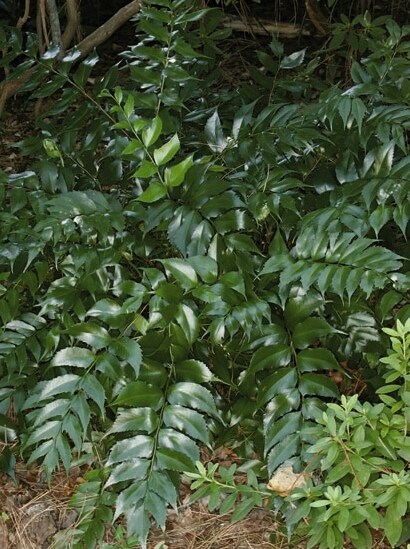 Complementary and alternative medicines have become popular for treating a variety of diseases and, more recently, immune disorders. Although many have been anecdotally reported as effective, these treatments have not been subjected to the same rigor for clinical use as is found in mainstream medicine. Cyrtomium macrophyllum, or (Makino) Tagawa, is a traditional Chinese medicine that has been used to treat infectious diseases ranging from tapeworms to colds and viral diseases. Ren et al. (2014) have, for the first time, identified the major bioactive compounds of C. macrophyllum (CM) and shown it to improve immune function in mouse studies.1 They combined mass spectrometric studies of an ethanol extract of CM with in vivo studies of the mouse thymus and spleen; as sites of growth and proliferation of immune cells, the thymus and spleen provide the greatest insight into immune function.
Ren et al. began by concentrating dried rhizomes of CM, which they extracted with 70% ethanol. They quantified the polyphenol, flavonoid and tannin content of the samples and found them to represent 30.87%, 27.64% and 11.22% of the major compounds, respectively. High-performance liquid chromatography (HPLC) using a Dionex UltiMate 3000 LC system with a binary pump (Thermo Scientific) and an LTQ Orbitrap hybrid ion trap-Orbitrap mass spectrometer with a heated electrospray ionization (HESI) source (both Thermo Scientific) characterized a further 16 compounds.
To assess the immuno-modulatory capabilities of CM, the research team used six groups of male BALB/c mice; the team used mice given cyclophosphamide as a model for immunosuppression, due to the similarities with viral immunosuppression mechanisms. On days 1–3 they treated two control groups–normal control and positive control–with saline solution and 200 mg/kg body weight of CM, respectively. The other four groups received 80 mg/kg/d of cyclophosphamide (CY). From days 4–8 the CY groups received saline solution, and the CM groups received intraperitoneal injections of CM at 50, 100 and 200 mg/kg. The team calculated the thymus and spleen indices of all mice by dividing the weight of the thymus or spleen by the mouse's body weight. They found that the spleen and thymus indices in the high, medium and low dose groups were significantly higher than those of the CY mice. These results suggest that CM may be able to resist the effects of immunosuppression on development of immune organs.
The researchers used carbon clearance tests to assess the function of macrophage cells, using ELISA to quantify serum IFN-γ and IL-6; they also performed toxicity studies by administering CM up to 2,000 mg/kg. The CM mice displayed an enhanced macrophage function and a marked dose-dependent increase of IFN-γ and IL-6 production. For the CY mice, this is therefore indicative of an enhancement in non-specific immune function and a definite reduction in severity of immunosuppression. It is also worth noting that the researchers observed no toxicity as a result of incremental CM dosing up to 2,000 mg/kg.
Ren et al. have provided evidence of potential CM efficacy in improving immune function and have identified major active compounds in the herb. Their research also suggests that tannins, polyphenols and flavonoids may have properties that can modulate immune function.
Reference
1. Ren, Z., et al. (2014, August) "Immuno-enhancement effects of ethanol extract from Cyrtomium macrophyllum (Makino) Tagawa on cyclophosphamide-induced immunosuppression in BALB/c mice," Journal of Ethnopharmacology, 155(1) (pp. 769–75), doi: 10.1016/j.jep.2014.06.021.
Post Author: Miriam Pollak. Miriam specialised in neuroscience as an undergraduate but traded in lab work for a post graduate degree in science communication.
She has since had a career that has spanned science communication, science education and communications management.
However, Miriam has found her bliss balancing her love of writing and disseminating medical research with managing a multimillion dollar research budget for a childhood cancer charity in Australia.
Oh, and because she's a sucker for punishment… she's just started a Masters in Human Nutrition…