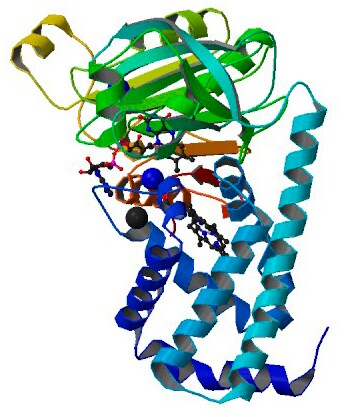 Researchers at the University of Washington have developed a novel strategy to better understand protein interactions in vivo.1 Protein function depends upon various shapes and features adapted during native interactions with other proteins. Information regarding protein topology within a biological system could greatly enhance researchers' knowledge of the ways in which proteins function globally.
Traditional mass spectrometry often relies on cell lysates and purified protein components that might not reveal subtle topological changes.2 Cross-linking mass spectrometry, on the other hand, is well suited for investigating protein–protein interactions. Weisbrod and colleagues recently developed a cross-linking strategy known as Real-time Analysis for Cross-linked Peptide Technology, or ReACT, that enables the application of cross-linking technology on a large scale. The team reported that ReACT analysis of cross-linked Escherichia coli cells yielded an impressive 10-fold larger capacity than previously reported data sets.
The team wrote the algorithm behind ReACT utilizing ion-trap control language for ion-trap mass spectrometers from Thermo Scientific; however, they pointed out that the same methodology could be used with any mass spectrometric platform capable of high-resolution MS2 and low-resolution MS3.
Weisbrod and colleagues explained that chemical cross-linkers compatible with ReACT must include low-energy collision-induced dissociation (CID) cleavage sites. To demonstrate the capabilities of ReACT, the team analyzed E. coli cells by developing and applying a series of CID-cleavable cross-linkers known by this group as Protein Interaction Reporter (PIR). The team then analyzed cross-linked cells on an Orbitrap Velos Pro hybrid ion trap-Orbitrap mass spectrometer (Thermo Scientific).
By employing high-resolution MS1, the team acquired and deconvolved the mass spectra to obtain the neutral mass and charge states of all species detected. They used a data-dependent strategy for species with a charge state of 4+ or greater and acquired high-resolution MS2 data. Next, they deconvolved MS2 data to obtain the neutral mass and charge state of all species detected.
The ReACT analysis automatically identifies spectral features that satisfy the following mass relationship:
PRECURSOR = REPORTER + PEPTIDE1 + PEPTIDE2
Next, the scientists select the released peptide ions for MS3 analysis, which in turn acquires the peptide fragmentation spectra.
ReACT analysis results in identification of two peptides cross-linked to each other that may or may not belong to the same protein/family. Through their analysis of E. coli, the researchers found 81% of the cross-linked sites included two non-redundant proteins. Additionally, 12.4% (88 of 708 identified) of cross-linked proteins included one of the peptides shared by multiple proteins. Finally, in 1.5% (11 of 708 identified) of cases, ReACT identified two redundant proteins. The researchers maintain that ReACT could yield important insights into the cell interactome.
References
1. Weisbrod, C.R., et al. (2013) "In vivo protein interaction network identified with a novel real-time cross-linked peptide identification strategy," Journal of Proteome Research, 12(4) (pp. 1569–79), doi: 10.1021/pr3011638.
2. Conggang, L., & Maili, L. (2013) "Protein dynamics in living cells studied by in-cell NMR spectroscopy," FEBS Letters, 587(8) (pp. 1008–11).