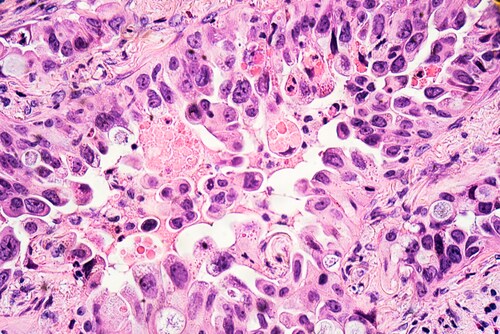 Although KRAS gene mutations are common in human cancer, there is a lack of therapeutic targets available for directing anti-cancer strategies. Yu et al. (2015) used mass spectrometric–based proteomics in a workflow that identified and characterized the role of small ubiquitin-like modifier (SUMO) E2 ligase Ubc9 in oncogenic pathways associated with KRAS mutation.1
Ras proteins are signal transduction molecules found downstream from growth factor receptors. Research has implicated mutations in the KRAS gene in tumor formation for a number of human cancers, including pancreatic ductal carcinoma, lung adenocarcinoma and colorectal carcinoma, and their associated cell lines. Through gene screening, Yu and co-authors found that KRAS-mutant cell line transformation required the presence of SUMO E2 ligase Ubc9, thus indicating potential as a therapeutic target.
Using various molecular techniques, including targeted shRNA depletion in a KRAS-mutant cell line, the researchers found that gene silencing to decrease or remove Ubc9 protein strongly inhibited both colony formation and growth. The researchers found that a decrease in protein SUMOylation accompanied the reduction of Ubc9 and diminished cellular and colony growth. They repeated the studies in other KRAS-mutant cell lines, obtaining the same results, and reversing them by transfecting the gene for wild type Ubc9 expression.
In vivo studies on xenograft growth in NOD/SCID mice also showed that reducing Ubc9 protein abundance was associated with a reduction in tumor growth.
In order to examine how SUMO E2 ligase Ubc9 contributes to malignancy in KRAS mutations, the team used stable isotope labeling of amino acids in cell culture (SILAC), followed by mass spectrometric proteomic analysis of tryptic cell lysate digests, to characterize differential protein SUMOylation. They cultured KRAS-mutant cell lines expressing stable 6xHis-tagged SUMO2 proteins and then compared abundance of conjugated SUMOylated proteins found with levels seen in wild type controls. The researchers used an LTQ Orbitrap Velos mass spectrometer (Thermo Scientific), gathering spectral data from electrospray ionization under data-dependent acquisition.
Searching the data with Proteome Discoverer software revision 1.2 (Thermo Scientific) identified 1,022 SUMO2 conjugated proteins, with 40 of these showing differential expression compared to the wild type controls. Yu et al. identified these candidates as KRAS-associated SUMOylated proteins (KASPs), describing them as potential targets for therapeutic development. Using standard search tools, the team found that the proteins enriched for nucleic acid and RNA-binding proteins. Applying Ingenuity Pathway Analysis (IPA) revealed a connection to the Ras hub. Further exploration in the Cancer Cell Line Encyclopedia confirmed previous documentation of the gene set enrichments among lung, colorectal and pancreatic cancer cell lines. Furthermore, comparison with other studies showed an association between increased KASP expression and decreased survival in a cohort of KRAS-mutant lung cancer patients.
In summary, Yu et al. are confident that the results from these studies show a critical role for SUMO E2 ligase Ubc9 in mediating KRAS-associated cellular transformation. They suggest that even though Ubc9 is ubiquitous in cells and necessary for many intracellular processes, a therapeutic window might exist for targeting cancers. They recommend further exploration of molecules that inhibit SUMO ligases as novel targets for chemotherapy.
Reference
1. Yu, B., et al. (2015) "Oncogenesis driven by the Ras/Raf pathway requires the SUMO E2 ligase Ubc9," Proceedings of the National Academy of Sciences of the United States of America, 112(14) (pp. E1724–E1733).
Post Author: Amanda Maxwell. Mixed media artist; blogger and social media communicator; clinical scientist and writer. A digital space explorer, engaging readers by translating complex theories and subjects creatively into everyday language.