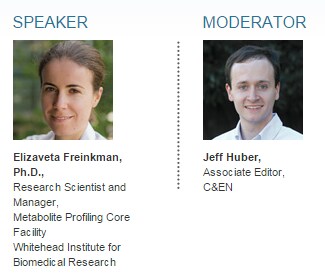 Small molecules are involved in multiple biological phenomena, including those associated with organismal physiology, metabolism, cancer biology, aging, and microbial pathogenesis. In an October 2014 webinar sponsored by Thermo Scientific, Lisa Freinkman, manager of the Metabolite Profiling Core Facility at the Whitehead Institute for Biomedical Research, described the basics of metabolite profiling and its applications in biomedical research.
According to Dr. Freinkman, liquid chromatography–mass spectrometry (LC/MS) is a highly versatile technique and well-suited to metabolomics. LC/MS can handle metabolites with concentrations spanning six orders of magnitude, with a broad range of sample types and coverage. Each experiment is precisely optimized based on the metabolite of interest. Common sample types include cultured cells, serum or tissue, enzyme reactions and RNA.
In her talk, Dr. Freinkman began by describing a general metabolomics LC/MS workflow. Researchers typically use solvents to extract and separate metabolites. The extracted metabolites are then subjected to LC to reduce the complexity of samples for MS analysis and to produce peaks that can be integrated for quantitation. The column chemistry, solvents and ingredients used to elute metabolites from the column are paramount to LC. Researchers can choose between traditional reversed-phase (C18) chromatography for lipids, and reversed-phase with ion pairing reagents for polar metabolites. In this way, the materials can be customized depending on the target metabolite.
For MS experiments, researchers commonly rely upon high-resolution accurate-mass (HRAM) instruments such as Orbitrap mass spectrometers (including the Q Exactive hybrid quadrupole-Orbitrap mass spectrometer, Thermo Scientific), as well as time-of-flight mass spectrometers. These instruments identify metabolites based on exact mass (<5 ppm error) while collecting full-scan data in a large mass range (70–1,000 Da). They can also perform MS/MS fragmentation. Triple quadrupole (QQQ) instruments are also useful for MS-based metabolomics, requiring fragmented metabolites for identification based on precursor/product fragment ion pairs; however, these instruments must be preprogrammed.
The data analysis stage is the grand finale of metabolite LC/MS experiments. Dr. Freinkman stressed the importance of this stage and recommended its careful planning prior to beginning an experiment. She described one analysis strategy using relative quantitation that relies on a peak area between the metabolite of interest and an internal standard. Researchers can also use absolute quantitation by converting the peak area ratio to a molar concentration using a standard curve.
In the second half of her presentation, Dr. Freinkman described research applications. Working with Dr. Yoav Shaul, Dr. Freinkman used her knowledge of LC/MS-based metabolomics to investigate metabolic enzymes in cancer aggressiveness that are involved in epithelial–mesenchymal transition. The researchers sought to determine the activity level of an EMT inhibitor, dihydropyrimidine dehydrogenase (DPYD). This work was challenging due to the low abundance of DPYD. To compensate, the team used highly concentrated cell extracts, with an additional particulate filtering step and column cleaning runs to eliminate contamination.
Furthermore, untargeted metabolomics is often a valuable strategy. In an unpublished research study described in the webinar, another researcher identified a novel bioactive molecule (referred to as "molecule X") through high-performance LC followed by the standard LC/MS method with full-scan data acquisition; the researchers identified molecule X based on retention time and MS/MS fragmentation data with comparisons of the active versus the inactive media. (The next stage involves quantifying the molecule, confirming its activity, and determining its mechanism.)
In conclusion, Dr. Freinkman further emphasized that LC/MS-based metabolomics is a diverse tool to address a variety of biological questions using targeted detection or, for a broader approach, hypothesis-generating experimentation. To learn more about this work, the entire presentation, "LC/MS-Based Metabolite Profiling and Its Applications in Basic Biomedical Research," is viewable online.
Post Author: Emily Humphreys. Emily has previous research experience in eye development, infectious diseases, and aging. While she enjoyed the thrill of research, She has since traded bench work for science journalism. Emily has been a regular contributor to Accelerating Science since 2012.