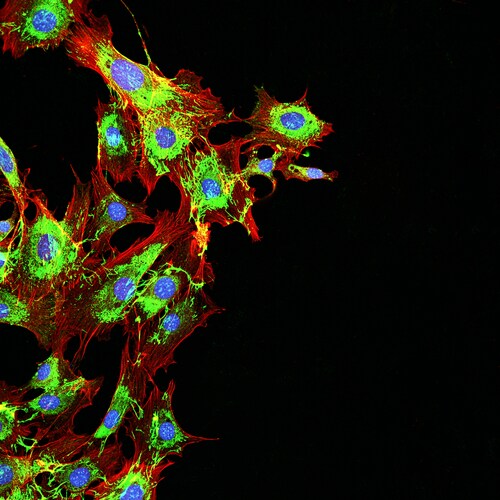 Triple-negative breast cancer (TNBC) is associated with a poor prognosis, mainly due to the disease's ability to metastasize extensively following an early relapse post treatment. Zhou et al. (2015) investigated this by examining lectin binding to cell surface factors, showing that these play a role in metastasis in this devastating form of breast cancer.1
The team's interest in the lectin-binding ability of breast cancer cells stemmed from previous findings suggesting that the high metastatic potential for some tumors related to abnormal cell surface glycosylation.2 Using specific assays in culture and on tissue samples, they characterized the availability of sugar-bearing proteins for association with carbohydrate-binding lectins.
Using TNBC and non-TNBC cell lines, the binding assay data mirrored individual metastatic potentials only in the triple-negative cancer cell cultures. Interestingly, Zhou et al. also found a strong inhibitory action by lectin in these cells, reducing adhesion, migration and invasion in culture.
To investigate cell surface glycosylation, the team cultured a number of breast cancer cell lines. They chose six TNBC lines initially derived from a single source (MDA-MD-231), each with a different metastatic potential. They cultured these, alongside other breast cancer cell lines (non-TNBC = MCF7, SKBR3; TNBC = BT549, SUM150), to 80% confluency before harvest.
Following harvest, the researchers fluorescently labeled the MDA-MD-231-derived TNBC cells before probing them using a 91-lectin microarray. The research team found that between 43 and 49 of the lectins probed bound cells, with 41 common to each of the six TNBC lines. Four of the lectins showed differential binding patterns according to cell line (RCA-I, WGA, WFA and SNA-I). Furthermore, RCA-I binding varied with metastatic potential, whereas WGA varied inversely with metastatic potential and WFA binding did not correlate. The team validated these results using flow cytometry and immunohistochemistry.
Upon further examination, the scientists also found strong RCA-I binding correlating with metastatic potential using TNBC tissue microarray (n=52 clinical tumor samples from TNBC patients). When they analyzed clinical details, they found that RCA-I binding varied with tumor node grade. Another analysis—this one using a tissue microarray of tumor samples from 160 patients, both TNBC and non-TNBC—showed that RCA-I binding intensity correlated well with markers for TNBC metastatic potential. Indeed, RCA-I binding scores successfully stratified TNBC patients according to survival outcomes. In contrast, RCA-I binding intensity did not vary among the non-TNBC tumor samples.
Zhou et al. then examined whether the increased expression of specific cell surface glycans affected tumor behavior, by measuring the effect of lectin on cell motility assays as markers of metastasis in culture. Using three of the six MDA-MD-231-derived cell lines (representative of high, medium or low metastatic potential), the researchers measured the effect of adding RCA-I to the culture medium. They found that RCA-I addition inhibited cell invasion and migration in a dose-dependent manner without affecting cell viability, with the strongest effect in the highly metastatic cell line; however, RCA-I only inhibited cell adhesion in the cell lines that showed high or medium metastatic potential. When the scientists treated the cells with WFA, a lectin that did not show altered binding ability dependent on metastatic potential, they found no inhibition of cell motility.
Finally, Zhou et al. used stable isotope labeling by amino acids in cell culture (SILAC) to identify the cell membrane glycoproteins specific to RCA-I binding. Using RCA-I affinity binding enrichment, the team prepared cell lysate digest for liquid chromatography–tandem mass spectrometry (LC-MS/MS) using an UltiMate 3000 nano-LC system (Thermo Scientific) and electrospray ion-trap mass spectrometry. They analyzed the spectral data against the IPI human database and found elevated levels of prostate, ovary, testis-expressed ankyrin domain family member F (POTEF) in the enriched fractions.
The researchers suggest that their results, which characterize cell surface glycosylation patterns in TNBC cells in general and focus upon RCA-I binding partners and over-expression of POTEF in particular, could shed light on mechanisms by which this aggressive cancer metastasizes. Furthermore, they feel that RCA-I warrants more investigation as a potential therapy for TNBC.
References
1. Zhou, S.-M., et al. (2015, March) "Lectin RCA-I specifically binds to metastasis-associated cell surface glycans in triple negative breast cancer," Breast Cancer Research, 17 (p. 36), doi: 10.1186/s13058-015-0544-9.
2. Guo, H.B., et al. (2001) "Relationship between metastasis-associated phenotypes and N-glycan structure of surface glycoproteins in human hepatocarcinoma cells," Journal of Cancer Research and Clinical Oncology, 127 (pp. 231–6).
Post Author: Amanda Maxwell. Mixed media artist; blogger and social media communicator; clinical scientist and writer.
A digital space explorer, engaging readers by translating complex theories and subjects creatively into everyday language.