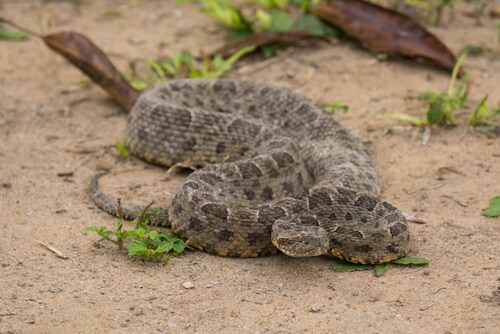 Snake venom serine proteinases (SVSPs) target the hemostatic system, disrupting pathways involved in proper blood clotting. SVSPs have been well studied in members of the Viperidae family; however, little is known about the cleavage sites targeted by SVSPs.
An international team comprising researchers from Canada, Brazil and Germany recently published a comprehensive analysis of SVSPs in the Brazilian viper Bothrops jararaca.1 The team concentrated their efforts on profiling the substrate specificity of Bothrops protease A, a specific fibrinogenolytic agent, and PA-BJ, a platelet-activating enzyme. They sought to better understand the primary specificity of these SVSPs, in hopes of gaining new insights into how SVSPs act during snake envenomation.
To analyze proteinases and investigate cleavage sites, Zelanis et al. relied on an effective strategy called proteomic identification of cleavage sites, or PICS, that makes use of proteome-derived peptide libraries as complex test substrates for the proteinase of interest. The strategy has been used successfully in previous studies with other proteases, including MMP2 and HIV1.2
The PICS strategy involves blocking amines after a digest with proteinases (such as trypsin and GluC) and identifying cleaved peptides via liquid chromatography–tandem mass spectrometry. The researchers used a Proxeon Easy-nLC high-performance liquid chromatograph coupled to an LTQ Orbitrap XL hybrid ion trap-Orbitrap mass spectrometer (both Thermo Scientific) for their analysis. From there, they searched Mascot software and X!Tandem software with the iProphet databases for peptide sequences, utilizing this information to reconstruct the cleavage sites.
The team identified a total of 581 prime-side peptides with 371 unique cleavage sites (208 for Bothrops protease A and 163 for PA-BJ). They found that both proteinases displayed a clear preference for arginine at the P1 position, a finding corroborated with previous work.
The authors generated two consensus peptide sequences, ranging from P4 to P4′ positions, for both Bothrops protease A and PA-BJ: AKPR↓KGLL and LAPR↓SLPL. They found a conservation of P2 (Pro) and P4′ (Leu) positions in the consensus sequences for both proteinases.
Along the peptide chain, slight differences existed. Concentrating on the P6–P6' chain, Zelanis et al. witnessed significant occurrence of Trp at P2 in peptides cleaved by Bothrops protease A, while those cleaved by PA-BJ frequently contained Ala at this position.
With this work, the researchers present a first-ever high-throughput mass spectrometric approach for mapping cleavable sequences by SVSPs. They suggest that a greater understanding of the structural differences in SVSPs may lead to improved treatments for snake bites or to new activity-based probes for molecular pathological investigations.
References
1. Zelanis, A., et al. (2015, January) "Snake venom serine proteinases specificity mapping by proteomic identification of cleavage sites," Journal of Proteomics, 113 (pp. 260–67), doi: 10.1016/j.jprot.2014.10.002.
2. Schilling, O., and Overall, C.M. (2008) "Proteome-derived, database-searchable peptide libraries for identifying protease cleavage sites," Nature Biotechnology, 26 (pp. 685–94).
Post Author: Emily Humphreys. Emily has previous research experience in eye development, infectious diseases, and aging. While she enjoyed the thrill of research, She has since traded bench work for science journalism. Emily has been a regular contributor to Accelerating Science since 2012.