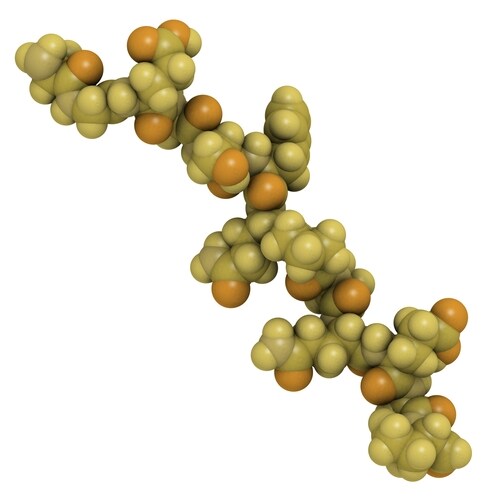 Celiac disease is a chronic inflammatory condition of the small intestine, an autoimmune disease caused by an inappropriate response to dietary gluten. Major histone compatibility complexes (MHCs) play an important role in the disease process, as they are responsible for displaying peptides on the surface of antigen presenting cells (APCs) for CD4+ T-cells. In the case of humans, the MHCs involved are called human leukocyte antigens, or HLAs. DQ-classed HLAs are involved in the pathogenesis of celiac disease, some with a greater association than others. Recently, researchers found that gluten-reactive gut T-cells of DQ2.2 celiac disease patients recognize epitopes that are different from those of DQ2.5 celiac disease patients, which indicates that these DQ molecules select different peptides for presentation.1 Bergseng et al. used quantitative mass spectrometry to better understand how the DQ molecules perform these selections.2
The investigators selected nine cell lines, each of which they lysed and from which they immunoprecipitated the DQ molecules. They then analyzed the samples using a Dionex UltiMate 3000 nano-LC system coupled to a Q Exactive hybrid quadrupole-Orbitrap mass spectrometer with a nano-electrospray ion source (all Thermo Scientific). The scientists operated the mass spectrometer in data-dependent acquisition mode using Xcalibur software (version 2.2, Thermo Scientific), submitting raw files to MaxQuant software (version 1.3.0.5) and using Andromeda as a search engine for peptide and protein identification. They also used UniProt for peptide identification. Bergseng et al. then used NetMHCIIpan-3.0 and NNAlign methods to estimate the binding motifs for the DQ2.2, DQ2.5 and DQ7.5 molecules.
The authors discovered reasonable variation in the length of peptides, from 8 to 25 residues, with a peak distribution of 14. Overall, they identified 4,267 peptides in the eluates of DQ2.5 molecules, 7,395 peptides in the eluates of DQ2.2 molecules and 7,380 peptides in the eluates of DQ7.5 molecules. They also found a significant difference between both the identity and quantity of peptides eluted from the DQ types. In particular, they found greater differences in diversity and relative abundance of endogenous peptides from DQ2.2 and DQ7.5, as compared to DQ2.5. DQ2.2 has a unique binding motif with a preference at P3 for threonine and serine and, to a lesser extent, for aspartate. In comparison, there is no amino acid preference at P3 for DQ2.5 or DQ7.5. The binding motifs of DQ2.5 and DQ7.5, but not that of DQ2.2, showed good correspondence with the predictions obtained using the NetMHCIIpan method.
The differing peptide motifs between DQ2.5 and DQ2.2 may explain why these celiac patients select distinct sets of gluten peptides for presentation to CD4+ T-cells. Similarly, this methodology may elucidate the differences in risk for developing celiac disease between the two DQ2 variants.
References
1. Bodd, M., et al. (2012) "T-cell response to gluten in patients with HLA-DQ2.2 reveals requirement of peptide-MHC stability in celiac disease," Gastroenterology, 142 (pp. 552–61).
2. Bergseng, E., et al. (2015, February) "Different binding motifs of the celiac disease-associated HLA molecules DQ2.5, DQ2.2, and DQ7.5 revealed by relative quantitative proteomics of endogenous peptide repertoires," Immunogenetics, 67 (pp. 73–84), doi: 10.1007/s00251-014-0819-9.