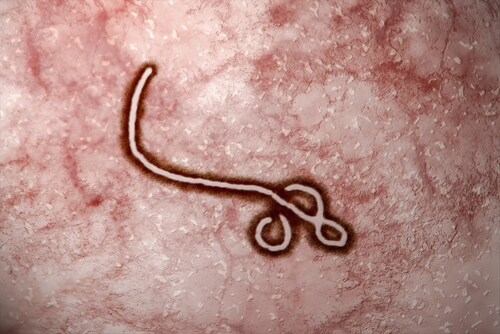 Ebola virus (EBOV) is responsible for severe hemorrhagic fever, with incredibly high mortality rates in humans and other primates. Along with other viruses in the Filoviridae family such as the Marburg virus, EBOV is a single-stranded negative-sense RNA virus.1 The EBOV genome is streamlined to encode only seven structural proteins. Four of these proteins—nucleoprotein, VP35, VP30 and RNA-dependent RNA polymerase—form a complex referred to as ribonucleoprotein complex, or RNP. The RNP is required for viral replication. (The remaining three proteins reside within the membrane of the virus.) Nucleoprotein (NP) is a 739-amino acid protein and is required for Ebola virion formation and replication.1 The C-terminal portion of the protein is disordered and highly charged. This region is required for incorporation of nucleocapsids in virions. Previous studies have indicated that residues of the NP of both EBOV and the Marburg virus are post-translationally modified by O-glycosylation and sialylation.2 It is thought that the glycosylations are required for nucleocapsid assembly. In addition to the glycosylation and sialylation, the Marburg NP is also heavily phosphorylated. Isolation of intact virus particles reveals that all copies of the NP in the virion are phosphorylated on the C-terminus. Because the Marburg and Ebola viruses are closely related and because phosphorylation seems to be a requirement for inclusion of NP in mature virions of Marburg, it is reasonable to assume that NP from EBOV is also phosphorylated and that this post-translational modification is important for virus assembly.
Peyrol et al. (2013) induced production of the NP from the Zaire EBOV in batch cell culture of human embryonic kidney (HEK3) cells, in order to measure the phosphorylation of the C-terminal extension.3 The NP was hexahistidine tagged ("histagged") on the N-terminus of the protein for rapid isolation. After expression and isolation of the protein, the researchers performed nano-liquid chromatography–tandem mass spectrometry (MS) experiments using an LTQ Orbitrap XL hybrid ion trap-Orbitrap mass spectrometer (Thermo Scientific) to identify phosphosites. Enriched immobilized metal affinity chromatography fractions containing histagged NP were subjected to different proteolytic digests and MS/MS, resulting in 167 unique peptides covering 83% of the NP sequence. Searching MS/MS spectra for neutral loss peaks of 80 daltons revealed the presence of multiple phosphorylation sites on EBOV NP. The phosphorylation sites are localized to two regions in the C-terminus of NP, amino acids 561–594 and 636–653. Several phosphosites were narrowed down to a specific amino acid through MS/MS fragmentation analysis. The phosphorylation sites were a mixture of modified and unmodified peptides, possibly due to the recombinant manner in which the protein was expressed or because active EBOV virions were not being assembled at the time.
Comparison of the phosphorylation sites identified on the Zaire EBOV NP with the known phosphorylation sites on the Marburg virus NP revealed several conserved modifications: Thr563, Ser581, Ser587 and Ser647. These modifications likely play a modulatory role in viral RNA synthesis and progression of the infection.
References
Geisbert, T.W.

, and

Feldmann, H

. (2011) "Recombinant vesicular stomatitis virus-based vaccines against Ebola and Marburg virus infections,"

Journal of Infectious Diseases,

204, Supplement 3 (pp. S1075–81).
Watanabe,

S.

,

Noda, T.

, and

Kawaoka, Y

. (2006) "Functional mapping of the nucleoprotein of Ebola virus,"

Journal of Virology,

80(8) (pp. 3743–51).
Peyrol, J., et al. (2013) "Multiple phosphorylable sites in the Zaire Ebolavirus nucleoprotein evidenced by high resolution tandem mass spectrometry," Journal of Virological Methods, 187 (pp. 159–65), doi: 10.1016/j.jviromet.2012.10.003.
Post Author: Adam Humbard.