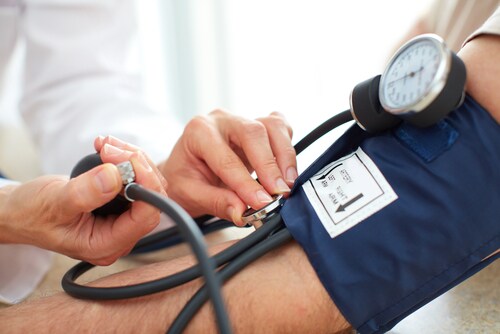 By 2030 more than 23 million people will die every year from cardiovascular diseases that are largely avertable.1 In order to implement preventative strategies, it is necessary to identify predictive markers for cardiovascular disease.
Hypertension is a risk factor for atherosclerosis and cardiovascular disease, although the relationships between them are poorly understood. Hypertension and its underlying pathophysiology may be present for years before clinical diagnosis and, similarly, prehypertension may precede hypertension and atherosclerosis.2 By identifying these conditions at their earliest points, however, it may be possible to initiate early intervention strategies for high-risk groups.
Kim et al. (2014) used mass spectrometry (MS)-based metabolomics and multivariate data analyses to provide insight into the metabolic changes taking place during prehypertension.3 They conducted a three-year prospective study in which they performed metabolic profiling of 53 individuals with prehypertension, as defined by blood pressure of 120–139 mm Hg systolic and 80–89 mm Hg diastolic. They compared the prehypertensive group to metabolic profiles of age- and sex-matched normotensive controls.
During the study, Kim et al. took measurements of subjects' body weights, body mass indexes (BMIs), waist circumferences (measured at the umbilicus), blood pressures and dietary intakes; blood samples were collected after a 12-hour fasting period. Using the blood samples, the researchers were able to determine fasting levels of total cholesterol and triglycerides. Similarly, they measured fasting glucose levels and concentrations of serum high-sensitivity C-reactive protein (hs-CRP). Other measurements taken included plasma oxidized LDL, urinary 8-epi-prostaglandin F2alpha, serum interleukin-6, interleukin-1 beta , tumor necrosis factor-alpha, and measurement of brachial-ankle pulse wave velocity. The team analyzed plasma samples using an Acquity UPLC-BEH-C18 column coupled to an LTQ Orbitrap XL hybrid ion trap-Orbitrap mass spectrometer (Thermo Scientific). They collected the Orbitrap mass analyzer data in the range of m/z 50–1,000.
Kim et al. found that the mean systolic and diastolic blood pressures in control and prehypertensive groups were 107/65 and 134/84 mm Hg, respectively. The study identified prehypertension-associated changes in lysophosphatidylcholines (lysoPC) and amino acid metabolism. The scientists demonstrated significant differences in the metabolic profiles between prehypertensive and normotensive individuals, including lysoPCs (14:0, 16:1, 16:0, 18:2, 18:1, 18:0, 20:5, 20:4, 20:3 and 22:6), the majority of which contained long-chain acyl groups, and the amino acids leucine, phenylalanine and tryptophan. LysoPC (16:0) was the most important plasma metabolite for evaluating the difference between prehypertensive and normotensive individuals; it was positively and independently associated with both systolic and diastolic blood pressure.
The action of lecithin cholesterol acyltransferase (LCAT) in plasma forms lysoPCs, which represent 5–20% of the total plasma phospholipids. LCAT releases lysoPC 20:4 and 22:6. The researchers observed a positive relationship between the levels of lysoPC 16:0 and those of other lysoPCs (14:0, 16:1, 18:2, 18:1, 18:0, 20:5, 20:4, 20:3 and 22:6), which could reflect an alternative source of lysoPC 16:0 production; this suggests that lysoPCs play an important role in prehypertension.
Additionally, researchers found prehypertension-associated elevations in lipoprotein-associated phospholipase A2 (Lp-PLA2) activity, oxidized LDL, urinary 8-epi-prostaglandin F2alpha, interleukin-6, and brachial-ankle pulse wave velocity, which could indicate increased production of lysoPCs and oxidative stress from Lp-PLA2-catalyzed PC hydrolysis during increased LDL oxidation in prehypertensive individuals.
Together, the data produced by Kim et al. provide a good starting point for identifying indicators for early intervention in patients with prehypertension.
References
1. World Health Organization. (2013) "Cardiovascular Disease," available at http://www.who.int/cardiovascular_diseases/en.
2. Chobanian, A.V., et al. (2003) "The Seventh Report of the Joint National Committee on Prevention, Detection, Evaluation, and Treatment of High Blood Pressure," JAMA, 289 (pp. 2560–72).
3. Kim, M., et al. (2014) "Prehypertension-Associated Elevation in Circulating Lysophosphatidlycholines, Lp-PLA2 Activity, and Oxidative Stress," PLOS ONE, 9(5), doi: 10.1371/journal.pone.0096735.
Post Author: Miriam Pollak. Miriam specialised in neuroscience as an undergraduate but traded in lab work for a post graduate degree in science communication.
She has since had a career that has spanned science communication, science education and communications management.
However, Miriam has found her bliss balancing her love of writing and disseminating medical research with managing a multimillion dollar research budget for a childhood cancer charity in Australia.