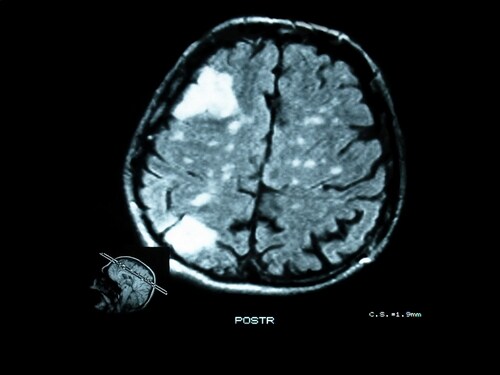 Tuberous sclerosis complex (TSC) derives its name from characteristic brain lesions, or tubers. More than 80% of people diagnosed with TSC have epileptic seizures, and many do not respond to pharmacological treatment, instead requiring surgical tuber resection. While TSC arises from mutations in the TSC genes (TSC1 and TSC2), the underlying molecular events that generate seizures remain elusive.
MicroRNAs (miRNAs)—endogenous noncoding RNAs—post-transcriptionally regulate genes and cellular processes, including approximately one-third of all protein-coding genes. Researchers have reason to believe they may play a part in epileptogenesis, but the role of miRNAs in TSC is unknown.
For this reason, Dombrowski et al. (2014) characterized miRNA expression in cortical tubers derived from TSC patients with epilepsy that does not respond to treatment. They compared expression levels with adjacent non-tuber tissue. They applied quantitative proteomics with tandem mass tags (TMT 10plex, (Thermo Scientific) and an Orbitrap Fusion mass spectrometer equipped with EASY-nLC UHPLC (both Thermo Scientific). In this way, the team evaluated how altered miRNA levels influence protein expression and also examined tumor suppressor p53 and inflammation as potential underlying mechanisms of miRNA regulation in TSC.1 They relied on Proteome Discoverer software (Thermo Scientific) for data processing and searching.
The team found five miRNAs with differential expression between the tuber and non-tuber tissue. Four of these—miRs 34a, 23a, 34b, 532-5p—overexpressed, while miR-381 underexpressed. They further determined that while miR-34b has few transcriptional targets, the other three upregulated miRNAs combine to impact multiple genes associated with neurological processes.
The researchers compared tubers with adjacent non-tuber cortical tissue as well as postmortem primate miRNA data used as controls. They confirmed that all upregulated miRNAs expressed at levels above normal tissue and controls and that the downregulated miRNA expressed at levels below normal tissue and controls. Interestingly, miR-34a exhibited age-dependent elevation with expression increasing during childhood and plateauing after adolescence. The team indicates that this data is an important consideration when working with pediatric samples.
Using quantitative proteomics, the team identified 1,745 significant proteins, including 842 that were upregulated and 903 that were downregulated in tubers. Then, they used prediction consensus to determine high-confidence target transcripts, relying on a combinatorial consensus score (CCS) to account for how the miRNAs might impose combinatorial targeting effects. They found that 68% (85/125) of targets with a CCS ≥13 evidenced suppression in tubers compared with 50.5% (818/1620) of protein targets with a CCS ≤12. This indicates significant suppression of proteins targeted by the overexpressed miRNAs.
Functional annotation (DAVID) of the 85 repressed combinatorial target proteins revealed significant enrichment (14/85 or 7.8-fold) for the gene ontology (GO) category "transmission of nerve impulse," which includes synaptic signaling. Other enriched ontologies were "neurological system process" and "neuron development." The team also noted nine genes linked to epilepsy among the 85 targets: TSC1 protein hamartin, synapsin II (SYN2), γ-aminobutyrate (GABA) A receptor beta3 (GABRB3), doublecortin (DCX), and neurofibromin (NF1). Hamartin in particular showed a 2.2-fold decrease in tubers.
Finally, the team turned to p53 and proinflammatory cytokine signaling, characterizing direct protein targets of p53 and NF-κB. They assessed 28 direct targets of p53, 24 direct targets of NF-κB, and a set of 5,749 proteins they called "the proteome." Overall, they found significantly elevated expression levels for both p53- and NF-κB-regulated proteins when compared with the proteome set.
Taken together, the findings here offer insight into potential underlying mechanisms governing epileptic seizures associated with TSC. This proposed link between miRNA-based transcriptional regulation could ultimately translate to novel treatment options for individuals with intractable seizures.

Reference

1 Dombrowski, A. A. et al. (2014) 'Cortical Tubers: Windows into Dysregulation of Epilepsy Risk and Synaptic Signaling Genes by MicroRNAs.' Cerebral Cortex, 1–13, doi: 10.1093/cercor/bhu276.