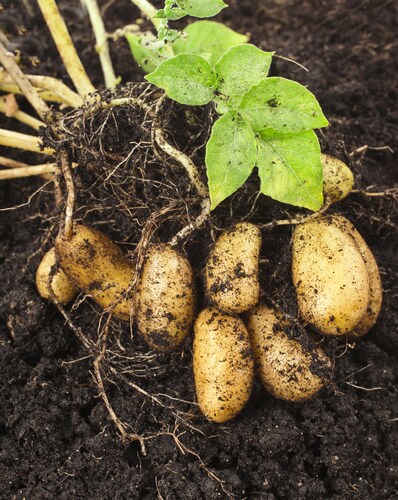 Mitochondria, frequently described as the powerhouse of the cell, are closely involved in energy regulation in plant and animal tissues. Salvato et al. (2014) recently employed a liquid chromatography–tandem mass spectrometric (LC-MS/MS) proteomics approach to investigate the role of these cell organelles in regulating plant storage tissue energy, using dormant potato (Solanum tuberosum) tubers as their model.1
Plant mitochondria contain an interesting proteome—although they are capable of synthesizing their own, they import approximately 95% of the proteins they utilize across their outer and inner membranes. Compared to other systems, plant mitochondria contain almost double the proteins found in nematode and mammalian mitochondria.
The researchers took dormant tubers, ground the tissue and then extracted the mitochondrial fraction. They confirmed the validity of their extraction and purification technique by examining the fractions using Western blotting for mitochondrial and other sub-cellular compartment components, identifying mitochondrial fractions using pyruvate dehydrogenase E1 component subunit a (PDE1-a).
The research team then performed a pre-fractionation step using one-dimensional sodium dodecyl sulfate–polyacrylamide gel electrophoresis (SDS-PAGE) before preparing samples for the high-mass-accuracy LC-MS/MS analysis. Slicing bands from the gels, the scientists treated the proteins with trypsin before analyzing the peptide digests using an EASY-nLC liquid chromatograph connected to an LTQ Orbitrap hybrid ion trap-Orbitrap mass spectrometer (both Thermo Scientific).
Once the spectral data acquired had been searched against a potato protein database, the researchers found that they had identified 7,346 peptides belonging to 1,060 protein groups, of which 23 were encoded by mitochondria. Their protein identification results were higher than other, similar studies, a finding that the team attributes to the technical advances and subsequent success of their pre-fractionation step.
Salvato and co-authors then used an enhanced fluorescent yellow protein tagging protocol and transfection studies to further confirm mitochondrial location. They selected 20 proteins identified in LC-MS/MS analysis of mitochondrial fraction, choosing those that were low in abundance or not previously attributed to this cell organelle. The scientists then transfected the tagged constructs into a tobacco leaf system and examined their localization by fluorescence microscopy. The subcellular localization study confirmed that 18 of the 20 proteins selected were taken up by mitochondria.
Having thus confirmed the integrity of their purification procedure and the validity of their LC-MS/MS results, Salvato et al. compared the identified potato tuber proteins with the Arabidopsis proteome database. They found that approximately 44% of the potato tuber mitochondrial proteome is involved in energy, metabolism and protein synthesis and represents 45% of total protein abundance, based on the distributed normalized spectral abundance factor.
The team also examined their data for evidence of post-translational modification (PTM). They found evidence of extensive PTMs throughout the dormant potato tuber proteome, with proteins involved in or associated with the tricarboxylic acid cycle showing the highest levels. The researchers also focused on oxidative PTMs, noting that mitochondria are also sources of reactive oxygen species. Out of all the oxidative PTMs identified, they found that levels of Met sulfoxidation were that highest.
In summary, Salvato et al. are confident that their shotgun proteomics approach has yielded valuable data about plant mitochondrial proteomes. As an example, they highlight the widespread PTMs found throughout the dormant potato tuber proteome, suggesting that this may represent an important method for functional regulation. They note, however, that several prediction algorithms failed to comprehensively categorize proteins identified as mitochondrial, even though the researchers were confident and had proved the validity of their fractionation protocol. The authors comment that it is important to realize the limitations of bioinformatics software in data analysis.
Reference
1. Salvato, F., et al. (2014) "The Potato Tuber Mitochondrial Proteome," Plant Physiology, 164 (pp. 637–53)
Post Author: Amanda Maxwell. Mixed media artist; blogger and social media communicator; clinical scientist and writer.
A digital space explorer, engaging readers by translating complex theories and subjects creatively into everyday language.