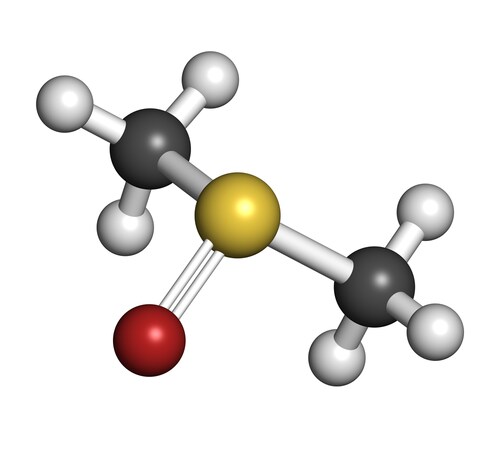 Tweaking an experimental setup is one of the greatest joys—and frustrations—for research scientists. Optimizing methodologies to maximize data collection, increase efficiency and improve validity occupies many, many lab hours in the pursuit of pure science, and mass spectrometry-based proteomics analysis is no different. Strzelecka et al. (2015) recently reported validation of one of these tweaks, namely addition of dimethyl sulfoxide (DMSO) to improve ionization during liquid chromatography–mass spectrometry (LC-MS)1.
Recently, researchers found that incorporating DMSO as an additive to the electrospray solvent mix for nano-electrospray ionization (nano-ESI) could improve spectral quality and reduce limits of detection to increase both peptide and protein identification.2 However, since the improvements seen in ionization were not uniform, the team proposed that adding DMSO could be detrimental for top 3 label-free quantitation. Commonly implemented as part of the data-independent acquisition (DIA) workflow, top 3 quantitation relies on summing the intensities of the three best ionizing peptides and comparing them with those obtained from a calibrant to give absolute protein quantitation.
Using yeast protein lysates, the research team tested the validity of adding DMSO for top 3 label-free quantitation, examining data obtained with and without the additive. Following trypsin digest, they examined the yeast peptide preparations by LC-MS, performing comparisons on two experimental setups, including an LTQ Orbitrap mass spectrometer (Thermo Scientific). They ran experiments in triplicate, comparing the two data sets by statistical analysis.
Although Strzelecka et al. did find a non-uniform effect in increased detectability for peptide signal intensities, their results showed no statistically significant difference between the data sets obtained with DMSO in the electrospray solvents and those obtained without the additive. Normalizing the quantitative results by expressing the proteins as copies per cell, they found a linear relationship between the two data sets that approached unity, with excellent correlation (R2 = 0.949).
Furthermore, when examining data from the DMSO samples, the researchers found a statistically significant increase in precision. Samples prepared with DMSO had higher identification rates for peptides (3.3%) and proteins (14.9%).
In conclusion, Strzelecka et al. strongly suggest that adding DMSO to the LC mobile phase is compatible for workflows involving top 3 label-free absolute protein quantitation. The non-uniform improvements in peptide signal intensities enriched acidic peptides and those containing hydrophobic residues, suggesting that combining the two approaches in experimental design as complementary approaches would yield a more thorough analysis.
References
1. Strzelecka, D., et al. (2015) "Evaluation of dimethyl sulfoxide (DMSO) as a mobile phase additive during top 3 label-free quantitative proteomics," International Journal of Mass Spectrometry, doi: http://dx.doi.org/10.1016/j.ijms.2015.07.004.
2. Hahne, H., et al. (2013) "DMSO enhances electrospray response, boostingsensitivity of proteomic experiments," Nature Methods 10(10) (pp.989–91), doi: 10.1038/nmeth.2610.
Post Author: Amanda Maxwell. Mixed media artist; blogger and social media communicator; clinical scientist and writer. A digital space explorer, engaging readers by translating complex theories and subjects creatively into everyday language.