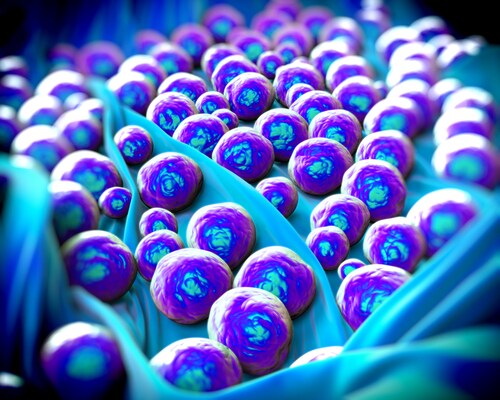 Methicillin-resistant Staphylococcus aureus (MRSA) was first described in 1961, shortly after the introduction of methicillin.1 Since then, MRSA has become a global public health issue, with more than 90,000 invasive infections occurring in the United States in 2005 alone.2 Vancomycin, a glycopeptide that inhibits cell wall synthesis, is currently used as an alternative antibiotic in the event of MRSA strains. Unfortunately, vancomycin-resistant S. aureus (VRSA) emerged as early as 1997; as well, reduced vancomycin susceptibility in S. aureus was seen (otherwise known as vancomycin-intermediate S. aureus, or VISA). Although evidence suggests that resistance is not spreading rapidly, it remains cause for concern.
Studies have begun to unravel the gradual adaptive processes of S. aureus in response to vancomycin selective pressure; however, these studies of vancomycin-susceptible S. aureus (VSSA) have been limited to single subcellular fractions. Hessling et al. (2013) have now combined proteomics with extensive pre-fractionation and metabolic labeling to monitor the changes in protein levels of S. aureus under vancomycin stress.3
The investigators grew S. aureus under agitation at 37 degrees Celsius. They then added vancomycin at a concentration of 4.5 mg/L, resulting in a decrease in the growth rate after 30 minutes. At 100 minutes, they harvested the cells for fractionation and quantification.
Hessling et al. carried out fractionation for soluble proteins residing in the cytosol (cytosolic fraction), for integral membrane and membrane-attached proteins (membrane shaving fraction and enriched membrane fraction), for proteins exposed on the cellular surface (biotinylation fraction and cell wall shaving fraction) and for proteins released into the growth medium (extracellular fraction). This enabled them to distinguish proteome changes in distinct locations within S. aureus cells. They obtained mass spectrometry (MS) data using LTQ Orbitrap XL and LTQ FT ICR hybrid mass spectrometers (Thermo Scientific).
The investigators identified 1,666 proteins from MS analysis and obtained quantitative data using in vivo 14N/15N metabolic labeling for 1,345 known proteins in vancomycin-stressed S. aureus cells. Their data demonstrated plausible adaptations such as an increase in the level of proteins involved in cell wall synthesis, and the synthesis of amino acids that are essential for peptidoglycan synthesis or in protein quality control of exported proteins. Additionally, they demonstrated a uniformly decreased amount of virulence-related proteins after vancomycin addition, which contradicts most transcriptional studies. The investigators noted these effects in the increase of proteins regulated by the two-component system VraS/VraR after vancomycin addition. Activation of this two-component system positively controls the expression of 46 genes in S. aureus strain N315 in the presence of vancomycin. Eleven out of the 46 positively VraSR-regulated proteins significantly changed. Also, the cluster of proteins under positive SigB control increased, whereas negatively regulated proteins primarily decreased in number after being stressed by vancomycin.
Two proteins with a role in membrane protein quality control, HtrA and PrsA, increased significantly in the presence of vancomycin. The HtrA homologue SACOL1777, which degrades misfiled and mislocalized polypeptides, and PrsA, involved in post-translocational folding of several secreted proteins, both act in the cell membrane.
Hessling et al. successfully demonstrated an approach that used extensive fractionation to improve their localization of proteome changes. They implicated the two-component system VraSR as the major regulatory system in response to vancomycin. They also showed a likely activation of SigB. Previous studies have not reported activation of SigB in S. aureus by vancomycin, and the investigators suggest this may be a clinically relevant avenue for further investigation of vancomycin-resistant strains of S. aureus.
References
1. Barber, M. (1961) "Methicillin-resistant staphylococci," Journal of Clinical Pathology, 14(4) (pp. 385–93).
2. Klevens, R.M., et al. (2007) "Invasive methicillin-resistant S. aureus infections in the United States," The Journal of the American Medical Association, 298(15) (pp. 1763–71).
3. Hessling , B., et al. (2013, December) "Global proteome analysis of vancomycin stress in Staphylococcus aureus," International Journal of Medical Microbiology, 303(8) (pp. 624–34).
Post Author: Miriam Pollak. Miriam specialised in neuroscience as an undergraduate but traded in lab work for a post graduate degree in science communication.
She has since had a career that has spanned science communication, science education and communications management.
However, Miriam has found her bliss balancing her love of writing and disseminating medical research with managing a multimillion dollar research budget for a childhood cancer charity in Australia.