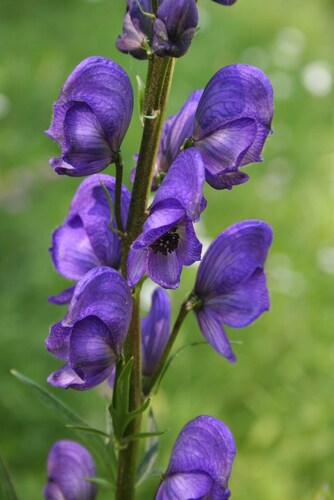 In traditional Chinese medicine (TCM), the root of Aconitum carmichaeli is a popular remedy for rheumatic disease. The A. carmichaeli root also possesses cardiotonic, anti-inflammatory, anti-epileptic and analgesic properties, as exhibited in corresponding pharmacological studies identifying diterpinoid alkaloids as the functioning bioactive compounds.
Xu et al. (2014) recently utilized ultra-high-performance liquid chromatography (UHPLC) combined with linear ion trap-Orbitrap mass-analyzer-based tandem mass spectrometry (MS/MS) for rapid and sensitive characterization of the alkaloid phytochemicals found in processed A. carmichaeli root, known colloquially as "Fuzi".1
First, the research team extracted the phytochemicals from powdered Fuzi root using methanol. They separated the extract into fractions via UHPLC, running the preparation through an Accela UHPLC system coupled to an LTQ Orbitrap XL hybrid ion trap-Orbitrap mass spectrometer (both Thermo Scientific) via an electrospray ionization (ESI) interface. The team used Mass Frontier software revision 6.0 and Xcalibur software revision 2.1 (both Thermo Scientific) to process, analyze and interpret the resulting mass spectrometric data.
Once optimized for the extract preparations, each UHPLC run took approximately 50 minutes per sample. The team noted that this was approximately two times faster than previous, conventional methods. Next, they analyzed the extract fractions using LC-MS/MS via the LTQ Orbitrap XL mass spectrometer, determining the elemental composition through examination of targeted peaks followed by accurate mass acquisition during MS/MS.
The researchers compared the resulting data with SciFinder and Beilstein databases to categorize fragments into the correct alkaloid subfamilies. They then used the MS/MS fragmentation patterns to identify the diterpinoids under examination.
Using this approach, Xu et al. obtained more than 120 diterpinoid alkaloids with good separation and resolution from their optimized UHPLC-MS/MS methodology. They noted that, with the advantage of high-resolution screening afforded by the Orbitrap mass analyzer, they could discriminate isobaric molecular ions and more accurately identify the alkaloid isomers. The data allowed detailed structural characterization of the four groups of diterpinoid alkaloids found in Fuzi.
In conclusion, Xu and colleagues agree that their analytical method works extremely well and should be suitable for use in other complex plant extracts. They suggest that their analysis of Fuzi extracts shows a potentially wider variety of bioactive compounds than expected; the plant may be useful in treating conditions other than those previously described.
Reference
1. Xu, W., et al. (2014, October) "Rapid separation and characterization of diterpenoid alkaloids in processed roots of Aconitum carmichaeli using ultra high performance liquid chromatography coupled with hybrid linear ion trap-Orbitrap tandem mass spectrometry," Journal of Separation Science, 37 (pp. 2864–73), doi: 10.1002/jssc.201400365.
Post Author: Amanda Maxwell. Mixed media artist; blogger and social media communicator; clinical scientist and writer.
A digital space explorer, engaging readers by translating complex theories and subjects creatively into everyday language.