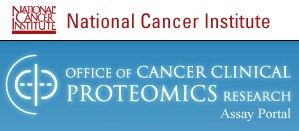 The National Cancer Institute's Clinical Proteomic Tumor Analysis Consortium (CPTAC) has recently released the CPTAC Assay Portal, designed to provide a repository for targeted proteomic assays, including multiple reaction monitoring (MRM) or selected reaction monitoring (SRM). Because targeted assays are increasingly more popular, evaluation of the quality of data—and making it accessible for collaboration—has become a high priority.1
Unlike databases or libraries currently in use, the CPTAC portal contains analytically validated assays and standard operating protocols that can be used to compare results across the board. This, in turn, provides a common ground for clinicians, systems biologists and analytical chemists to share data and pursue hypotheses via targeted-based assays. Another benefit of the assay portal is the ability to correlate proteomic data with genomic data available through the complementary Cancer Genome Atlas Data Portal.
Submissions to the CPTAC portal come via a network of CPTAC teams from Proteome Characterization Centers located at the Broad Institute, Johns Hopkins University, the Pacific Northwest National Laboratory, Vanderbilt University, Washington University, and the University of North Carolina, Chapel Hill.
Assays meeting the established criteria are entered through a Web-based entry form. The data is uploaded to Panorama, an open-source data collecting platform currently supporting six vendors, including AB SCIEX, Agilent, Bruker, Shimadzu, Thermo Scientific and Waters. Lastly, to ensure minimum requirements are met, all assays are subject to a manual review by site administrators.
To make the portal accessible, it is organized into four levels. Level one consists of the starting or landing page, where the initial query takes place. Level two displays a protein-centric view and maps peptide analytes relative to features of interest. Investigators can see information such as sequence domains, isoforms, coding polymorphisms and post-translational modifications. The third level provides detailed assay characterization data (accessible through Panorama).
Finally, the fourth level of the portal is designed to aid investigators in implementing targeted assays in laboratories. This level contains an option for Skyline, a downloadable Windows client application for building and analyzing targeted mass spectrometric data; it also includes standard operating protocols for each assay and discussion board as a resource for community-based information exchange on assay performance.
At launch, the portal contained over 450 MRM assays. The assay portal now includes data from ovarian and breast cancers, with plans to add several hundred more assays over the next 2 to 3 years. In addition, it will soon be open for contributions from the community.
Reference
1. Whiteaker, J.R., et al. (2014, June) "CPTAC Assay Portal: A repository of targeted proteomic assays," Nature Methods, 11(7) (pp. 703–4), doi: 10.1038/nmeth.3002.
Post Author: Emily Humphreys. Emily has previous research experience in eye development, infectious diseases, and aging. While she enjoyed the thrill of research, She has since traded bench work for science journalism. Emily has been a regular contributor to Accelerating Science since 2012.