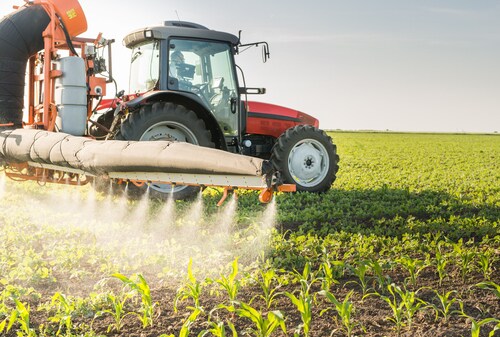 Organophosphorus agents (OPs), such as pesticides and chemical warfare agents, can cause enzyme inhibition of acetylcholinesterase. OPs covalently modify serine residues, leading to death from respiratory center paralysis. Sun et al. (2016) used liquid chromatography–tandem mass spectrometry (LC-MS/MS) to determine whether they could more accurately and more sensitively identify residues modified by OPs.
Using a transferrin model, Sun et al. performed a reaction between transferrin and sarin, soman, VX, tabun, cyclosarin, ethyl tabun and propyl tabun. They dissolved 0.5 mg of transferrin in 0.5 mL of 100 mM Tris-HCl and treated it with 30 μl of 10 mg/ml solutions of each individual OP, separately, in isopropanol for 24 hours at 37°C. They then denatured the transferrin in boiling water, reduced it with dithiothreitol, alkylated it and dialyzed it. After completing sample preparation, the investigators injected 7 μL of solution into a Q Exactive mass spectrometer (Thermo Scientific).
Using an UltiMate 3000 RSLCnano liquid chromatograph (Thermo Scientific) combined with the Orbitrap Q Exactive mass spectrometer, they separated the samples at a flow rate of 0.30 μL/min. The investigators operated the Q Executive mass spectrometer in data-dependent acquisition mode using Xcalibur software, v. 2.2, (Thermo Scientific). They also performed a single full scan (350–1800 m/z; 60,000 FWHM), followed by 10 data-dependent MS/MS scans at 27% high energy collision dissociation. Sun et al. then searched the MS/MS spectra of the tryptic-cleaved samples from each LC-MS/MS against the UniProt database.
The investigators confirmed 20 binding sites and 14 peptides by MS/MS spectra. Binding sites involved three types of residues: 10 tyrosine sites, seven lysine sites and three serine sites. Most of the time, the parent ion mass was equal to an added mass plus the peptide mass. The modified peptides showed that different OPs could modify different sites, due to differences in their structures. They also showed that toxicity might not be related to the number of modified sites on the transferrin.
In OP tyrosine-labeled peptides, different sites on the same peptide were modified by different OPs. Tabun only labeled the peptides on lysine, but ethyl tabun and propyl tabun modified three kinds of residues. In OP serine-labeled peptides, the investigators identified two different ways of ageing (the process in which serine peptides labeled by OPs occur in dealkylation) using MS/MS spectra. When O-dealkylation occurred, the added mass of propyl tabun was 163.0762 amu, and when deamination occurred, the added mass of propyl tabun was 107.9976 amu. Modified tyrosine peptides did not undergo ageing and were useful in OP classification. Further, sarin, soman, VX, cyclosarin, ethyl tabun and propyl tabun were able to label peptides on three kinds of residues, but Sun et al. found only tabun-labeled lysine peptides.
Sun et al. conclude that LC-MS/MS is a useful tool for identifying protein phosphorylation through the relatively intact fragments of the MS/MS spectra. They also note that the Q Exactive mass spectrometer is sensitive and has high resolution, which allowed them to identify modified proteins without enrichment, and to find binding sites using MS/MS spectra.
Reference
1. Sun, F., (2016) "Identification of new binding sites of human transferrin incubated with organophosphorus agents via Q Exactive LC–MS/MS," Journal of Chromatography B, 1022 (pp. 256–264), doi: 10.1016/j.jchromb.2016.04.028.

Post Author: Miriam Pollak. Miriam a Nutritionist specialising in women's health and works from her Bondi Beach clinic. She is also currently completing her Masters by research in nutrition.
Prior to this, Miriam majored in neuroscience as an undergraduate before completing a post graduate degree in science communication. She spent over a decade working in science communication and medical research, collaborating with some of the best oncologists and researchers in Australia and the U.S.