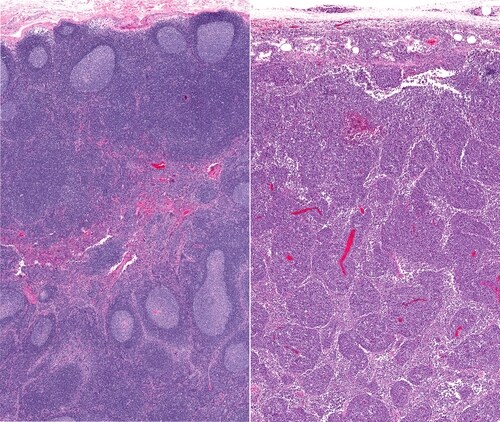 Non-Hodgkin lymphoma is a group of cancers of the lymphatic system that may arise in B or T cells of the immune system. Approximately 40% of non-Hodgkin lymphoma is known as diffuse large B-cell lymphoma, or DLBCL. Despite it being a more common subtype of non-Hodgkin lymphoma, DLBCL survival rates are poor, and relapse rates are high. Using xenograft models, Hagner et al.1 demonstrated the effects of CC-122, a pleiotropic pathway modifier compound, which shows efficacy in reducing DLBCL growth. In doing so they have identified a potential new pathway for clinical development that is not presently targeted by standard chemotherapeutics.
Using ABC (Activated B-cell) and GCB (Germinal Centre B-cell) DLBCL cell lines, Hagner et al. tested the anti-proliferative activity of CC-122 over five days and found that ABC cell lines were more sensitive. In both instances, flow cytometry showed that apoptosis of lymphoma cells occurred in clinically relevant concentrations.
Thalidomide, lenalidomide and pomalidomide target cereblon (CRBN), a DLBCL substrate receptor, by binding the governing tryptophan residues in its hydrophobic pocket. The chemical structure of CC-122 similarly contains a glutarimide ring, as per these compounds. Therefore, the investigators asserted that CC-122 may behave in a comparable way. This was the case, and using FG-magnetic nanoparticle beads with a U266 cell extract binding assay, they further showed that CC-122 showed competition with thalidomide for binding CRBN in lymphoma.
In order to elucidate the drug mechanism, Hagner et al. isolated total proteins from drug-treated cells and analyzed them using tandem mass tag mass spectrometry (Orbitrap Fusion Tribrid mass spectrometer equipped with an Easy nLC 1000 liquid chromatograph, Thermo Scientific). The scan sequence for the Orbitrap Fusion Tribrid mass spectrometer began with an MS1 spectrum. They then selected top speed for MS2 analysis, which also consisted of CID (collision-induced dissociation). MS3 analysis used the top 10 precursors from the MS2 scan. The investigators fragmented precursors by HCD (higher energy collision dissociation) prior to Orbitrap mass analyzer analysis. CC-122 treatment increased the relative abundance of IFN-stimulated proteins such as IFIT3 and DDX58 by 5- to 15-fold. Exposure to lenalidomide did not result in increased levels of these proteins. Furthermore, CC-122 promoted a much greater reduction in the levels of Aiolos and Ikaros, transcription factors that are known to be degraded by lenalidomide in lymphoma.
Finally, the investigators examined the effect of CC-122 on degradation of Aiolos and Ikaros, which are suppressors of IL-2 expression and secretion in T cells. CC-122 dramatically increased T-cell expression of IL-2.
These results demonstrate the efficacy of CC-122 in treating non-Hodgkin lymphoma, sharing a target with lenalidomide. The fact that it targets Aiolos suggests that it may have a role in repression of interferon (IFN) genes in DLBCL. This is of particular interest because IFN-α has previously shown very little efficacy in high-grade lymphoma, while also showing dose-limiting toxicity. The authors suggest that this is a unique mode of action whereby CC-122 may be circumventing IFN to cause apoptosis of DLBCL.
Reference
1. Hagner, P.R., et al. (2015) "CC-122, a pleiotropic pathway modifier, mimics an interferon response and has antitumor activity in DLBCL," Blood, 126(6) (pp. 779 – 789).