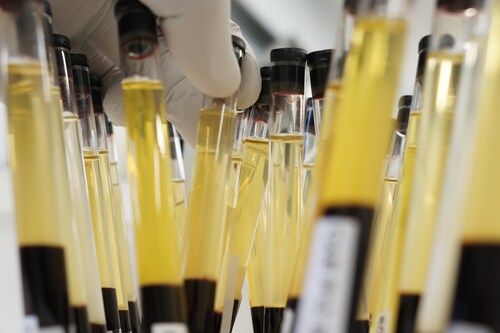 Systemic sclerosis (SSc), also known as scleroderma, is an autoimmune disease affecting connective tissue. The disease can remain localized to the skin (Iimited systemic sclerosis [lSSc]), or affect internal organs such as the GI tract, heart, lungs and kidneys (diffuse systemic sclerosis [dSSc]). Past researchers have identified a wide range of autoantibodies, with some useful in diagnosing SSc.
For example, the TOP1 and RNAP3 autoantibodies are almost exclusively seen in dSSc, while CENP, Th/To and U1RNP antibodies are more commonly associated with lSSc. Some of these antibodies, such as TOP1, U11/12 and RNAP3, can also help predict additional complications, such as pulmonary fibrosis, cardiac involvement and cancer.
Johnson et al. note that there are limitations in the most current SSc research. Rather than targeting low-abundance antibodies or looking for novel antibodies, researchers tend to focus on investigating single antibodies. Because there may be multiple autoantibodies interacting within a patient, Johnson and colleagues used immunoprecipitation and liquid chromatography-mass spectrometry (LC-MS) to assess all autoantibodies present in SSc patients.1
The researchers obtained sera from Boston University and the Hospital for Special Surgery in New York City from 13 patients diagnosed with either dSSC or lSSc. They also included four healthy individuals as controls.
For the immunoprecipitation, the team used HeLa whole cell lysates to cross-link patient sera to Invitrogen Protein G Dynabeads (Thermo Scientific). After recovering proteins, they separated them using sodium dodecyl sulfate polyacrylamide gel electrophoresis (SDS-PAGE). They next performed an in-gel trypsin digest in preparation for protein analysis using an LTQ Orbitrap mass spectrometer, as described previously,2 or an Orbitrap Fusion Tribrid mass spectrometer loaded onto an EASY-nLC 1000 liquid chromatograph (both Thermo Scientific) for reversed-phase high-pressure liquid chromatography.
Using western blot and immunofluorescence for conformations, the team identified a wide range of proteins. They saw a strong reaction to major SSc autoantigens such as CENP, TOP1 and RNAP3, which had the greatest overlap in all patients. The smallest overlap was in the healthy control with just 40 proteins. Looking at the major autoantibody groups, immunoprecipitation of RNAP3 was exclusive to the RNAP3 group, with no RNAP3 peptides detected in any of the other samples. In contrast, TOP1 peptides were consistently highest among TOP1 patients, but were also detected at low levels in all four RNAP3+ patients and in two controls. Because these patients were negative for TOP1 autoantibodies by clinical ELISA-based testing, the team notes that these results indicate a higher degree of sensitivity using their immunoprecipitation–mass spectrometry protocol.
Interestingly, gene ontology studies confirmed RNA-processing bodies and stress granules as major targets of the humoral immune response. They explain that these findings support a model in which a combination of chronic and acute cellular stresses result in aberrant cell death, leading to autoantibody generation directed against macromolecular nucleic acid–protein complexes. They also point out that a larger, more expansive study is needed to make further clinical correlations with these autoantibodies.
References
1. Johnson, M.E., et al. (2016)  "Stress granules and RNA processing bodies are novel autoantibody targets in systemic sclerosis," Arthritis Research & Therapy, 18(27).
2. Yore, M.M., et al. (2011) "Proteomic analysis shows synthetic oleanane triterpenoid binds to mTOR," PLoS ONE, 6(7).
Post Author: Emily Humphreys. Emily has previous research experience in eye development, infectious diseases, and aging. Emily has been a regular contributor to Accelerating Science since 2012.