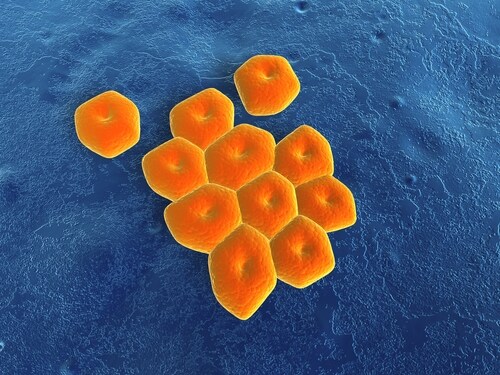 The ability to survive harsh environments and rapidly develop resistance to multiple drugs has led to an increase in drug-resistant strains of Acinetobacter baumannii. Researchers and those working in healthcare settings are interested in the mechanisms that enable this bacterial pathogen to persist despite strategies to protect those individuals most at risk of infection.
Recently, Scott et al. reported that surface glycans are a key factor related to A. baumannii's persistence and virulence. This research group investigated O-linked protein glycosylation systems of Acinetobacter species and found extensive glycan diversity.1
Employing global strategies for the analysis of glycosylation, the researchers worked with commonly sequenced A. baumannii strains such as ATCC 19606 and ATCC 17978, as well as clinical isolates. They used a targeted approach to introduce a tagged-glycosylation acceptor protein as "bait" into the strain of interest, subsequently purifying the glycosylated protein via affinity chromatography. The team digested proteins using sodium dodecyl sulfate–polyacrylamide gel electrophoresis, followed by an in-gel trypsin digest. They also selectively enriched the glycopeptides before analyzing them using mass spectrometry.
Scott and colleagues used an EASY-nLC liquid chromatograph (Thermo Scientific) coupled to either an LTQ Orbitrap XL ETD hybrid ion trap-Orbitrap mass spectrometer, an LTQ Orbitrap Velos hybrid ion trap-Orbitrap mass spectrometer, or an Orbitrap Elite hybrid ion trap-Orbitrap mass spectrometer (all Thermo Scientific). To process raw data files, they used Proteome Discoverer software (version 1.3, Thermo Scientific).
This research team was able to demonstrate that the variation in O-glycan structure extends beyond the genetic diversity predicted by the carbohydrate loci alone, targeting proteins of similar properties and identities. The researchers identified 50 unique glycopeptides; these corresponded to 26 glycoproteins, including 13 unique identifications. Of these glycoproteins, eight were previously unknown in A. baumannii. Using a patented technique called ZIC-HILIC enrichment, the team identified 13 unique glycopeptides containing a unique tetrasaccharide glycan composed of HexNAc2-Hex-NulO, where NulO corresponds to a 316.13-Da nonulosonic acid sugar. The presence of this glycan proved that O-linked glycosylation is widespread in clinically relevant Acinetobacter species. Additionally, the researchers were able to conclude that glycan diversity exists beyond that previously identified in ATCC 19606 and ATCC 17978.
When the researchers examined four clinical isolates—Arg1, Arg2, 1441 C1 and 1441 C3—they found that glycan diversity also existed within these strains. They identified the major glycopeptides as containing the glycans HexNAc-Hex2-HexNAc-258 and HexNAc2-Hex-NulO within Arg1, Arg2 and 1441 C1 and 1441 C3, respectively. These findings validate previous work.
This work demonstrates the existence of O-linked glycosylation in A. baumannii and may lead to the development of improved drug therapies specifically targeting this pathogen. Additionally, Scott et al. suggest that this method could be used to characterize glycosylation systems in other bacterial strains.
Reference
1. Scott, N.E., et al. (2014, September) "Diversity within the O-linked protein glycosylation systems of Acinetobacter species," Molecular Cell Proteomics, 13(9) (pp. 2354–70), doi: 10.1074/mcp.M114.038.
Post Author: Emily Humphreys. Emily has previous research experience in eye development, infectious diseases, and aging. While she enjoyed the thrill of research, She has since traded bench work for science journalism. Emily has been a regular contributor to Accelerating Science since 2012.