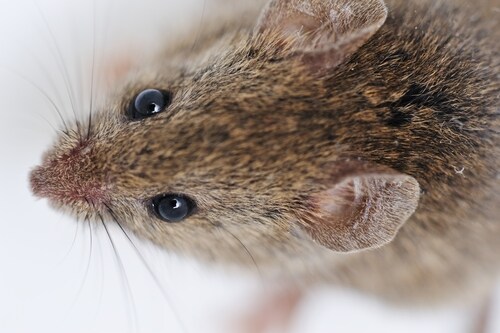 Researching a human disease becomes a little easier when a valid animal model is available. Lundberg et al. (2015) recently examined a transgenic mouse psoriasis model, validating observed murine proteome changes with those found in human patients.1 The team's approach, using animal and human skin biopsies in conjunction with primary keratinocyte cultures, shows that protein changes associated with disease in the mice closely mimic those seen in man.
Psoriasis affects approximately 2% to 3% of the U.S. population through chronic, immune-mediated and aggressive hyperproliferative skin damage. Patients can expect only symptomatic relief rather than an absolute cure, with therapy frequently accompanied by adverse reactions and side effects, involvement of other organ systems, and eventual development of resistance to treatment. The search for novel anti-psoriatic drugs is urgent and ongoing.
The researchers took skin samples from three KC-Tie2 psoriasis mice and three control animals, isolating the proteins before separating the extracts using sodium dodecyl sulfate–polyacrylamide gel electrophoresis (SDS-PAGE). Once fractionated, the scientists excised the bands according to molecular weight, thus avoiding highly abundant skin proteins such as keratin, albumin and myosin in subsequent analyses. They then digested the protein bands in situ with trypsin before analyzing them via liquid chromatography–tandem mass spectrometry (LC-MS/MS) label-free quantitation. The researchers used an LTQ Orbitrap Velos hybrid ion trap-Orbitrap mass spectrometer (Thermo Scientific) for this step. Once collected, Lundberg et al. searched the mass spectrometric data against the Mouse International Protein Index for matches.
From this initial discovery phase, the researchers identified 5,482 peptides corresponding to 1,281 individual proteins. Of these, 105 proteins showed differential expression when compared with proteins isolated from control mice (p<0.05, with >2.0-fold difference). Fourteen of the proteins showed decreased expression; however, the remainder (n=91), including stefin A1 (human orthologue, cystatin A), serpinb3b (human orthologue, serpinB1), Ras-related protein (Rab18) and ADP/ATP translocase 2 (slc25a5), were elevated. Kallikrein-related peptidase 6 (KLK6) also showed a >2.0-fold increase, although this was not statistically significant.
As validation for this initial discovery phase, the researchers turned to quantitative reverse transcription polymerase chain reaction (qRT-PCR), using skin RNA extracted from eight transgenic mice and eight controls. They found increased gene expression for serpinb3b, KLK6, stefin A1 and slc25a5. Using proteins purified from skin adjacent to the RNA extraction sites, the team also conducted a second round of LC-MS/MS analysis, this time using an Orbitrap Elite hybrid ion trap-Orbitrap mass spectrometer (Thermo Scientific). They found increased protein abundance for slc25a5, stefin A1 and KLK6.
The researchers then turned to investigating the skin proteome in human psoriasis patients. They collected biopsies from active lesion and non-lesion skin in patients with confirmed psoriasis (n=7, chronic moderate to severe plaque) and from unaffected control subjects (n=6). Patients with psoriasis received no treatment for four weeks prior to biopsy and did not apply topical drugs for two weeks.
Using LC-MS/MS to investigate abundance of five of the targets identified during the discovery phase in the mouse model (slc25a5, cystatin A, KLK6, serpinB1 and Rab18), the research team verified their findings in protein extracts from the skin biopsies. In all but Rab18, the abundance increased. The team also examined the proteomes of primary keratinocyte cultures seeded from the various biopsies, obtaining similar results. Lundberg et al. further confirmed the data via qRT-PCR for gene expression, along with immunohistochemistry, using specific antibodies and staining intensity to localize and quantify the proteins within the biopsies.
In conclusion, the authors believe that their results confirm the validity of the KC-Tie2 mouse model for studying human psoriasis. Furthermore, the novel peptides and proteins identified as differentially expressed in psoriatic lesional and pre-lesional skin could further elucidate pathogenesis by showing factors that might present as auto-antigens in the development of disease. The team's results also characterize areas attractive to drug development in addition to providing markers suitable for monitoring the course of disease and response to treatment.
Reference
1. Lundberg, K.C., et al. (2015, January) "Proteomics of skin proteins in psoriasis: From discovery and verification in a mouse model to confirmation in humans," Molecular and Cellular Proteomics, 14 (pp. 109–19), doi: 10.1074/mcp.M114.042242.
Post Author: Amanda Maxwell. Mixed media artist; blogger and social media communicator; clinical scientist and writer.
A digital space explorer, engaging readers by translating complex theories and subjects creatively into everyday language.