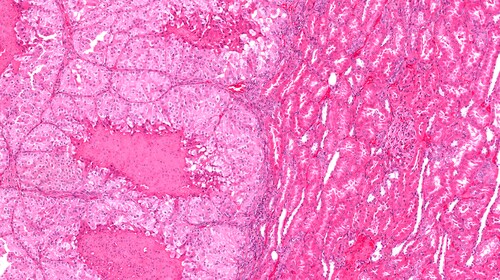 Exploration of the interactome, the network of cellular factors with which a protein interacts in order to fulfill its specific role, is complicated. Instead of looking at a protein in isolation, interactome analysis means locating, identifying and possibly quantifying a myriad of other cellular components. In addition to the considerable analytical challenges presented, obtaining an intact interactome to study is also problematic because sample collection and preparation can themselves be disruptive.
Turriziani and colleagues (2014) have used a novel, on-bead digestion process to surmount these problems, overcoming low protein abundance and minimizing interactome disruption prior to label-free quantitative proteomic analysis.1
The researchers transfected human embryonic kidney (HEK293T) and breast cancer (MCF7) cultures with variously tagged proteins (Flag, GFP or V5 tags). They then immunoprecipitated the cell lysates using appropriately labeled agarose beads to capture the flagged proteins, along with their interactomes. The researchers then added trypsin to digest the complexes captured on the beads. Following purification, the peptide digests underwent proteomic analysis by ultra-high-performance liquid chromatography–mass spectrometry (UHPLC-MS) using a Q Exactive hybrid quadrupole-Orbitrap mass spectrometer (Thermo Scientific) operated in data-dependent acquisition (DDA) mode. The scientists analyzed the data using MaxQuant software, searching against the UniProt human database for identification.
Commenting on their on-bead digestion protocol, the researchers note that this methodology is faster and more efficient than traditional gel electrophoresis for sample preparation. In addition to a faster processing time and fewer handling steps, they consider that their limited digestion improves sample clarity, without increasing contaminants, for mass spectrometric analysis.
Once established, Turriziani et al. tested their protocol by screening the interactomes of kinases from the ERBB pathway (Akt1, ErbB2, ErbB3, GSK3[1], GSK3, mTOR, PDPK1, PRKAA1, S6K1, ULK1 and ULK2), transfecting the cell lines with flagged constructs (using Flag tags) of each protein. They also treated the cell cultures with heregulin, a growth factor that interacts with and activates components of the ERBB pathway, to examine dynamic alterations in their system. The on-bead digestion sample preparation followed by DDA UHPLC-MS analysis indeed revealed differential expression of interactome protein levels across experimental time points. For example, Akt1 interacts increasingly with 14-3-3 following heregulin stimulation, but only transiently with other proteins, such as MAPK3 and ACTC1. The scientists examined the samples in triplicate and found the data to be highly reproducible (Pearson's correlation coefficient of 0.97–0.99).
Turriziani and co-authors describe their protocol as a contemporary modification and improvement on traditional sample preparation methodology; instead of running the samples through Western blotting, analysis now takes place via mass spectrometry, thus increasing the attainable complexity of experiments. With a faster and more powerful analytical tool available, the researchers are confident that their new method shows great potential for expanding interactome analysis in an efficient and cost-effective manner.
Reference
1. Turriziani, B., et al. (2014) "On-Beads Digestion in Conjunction with Data-Dependent Mass Spectrometry: A Shortcut to Quantitative and Dynamic Interaction Proteomics," Biology, 3 (pp. 320–32), doi: 10.3390/biology3020320.
Post Author: Amanda Maxwell. Mixed media artist; blogger and social media communicator; clinical scientist and writer.
A digital space explorer, engaging readers by translating complex theories and subjects creatively into everyday language.