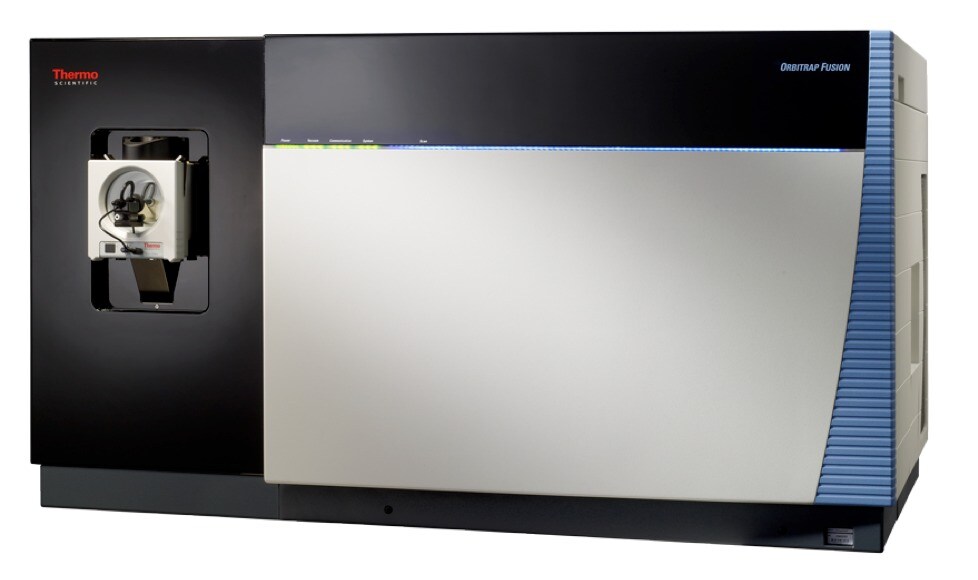 Top-down analysis offers unparalleled access to the proteome, particularly when characterizing co-occurring post-translational modifications. Unfortunately, incomplete fragmentation can produce inadequate sequence coverage. Previous research indicates that the combination of electron transfer dissociation (ETD) and higher-energy collisional dissociation (HCD) fragmentation modalities as a single event effectively increases sequence coverage,1 leading researchers to believe that the novel dual fragmentation methods available on the Orbitrap Fusion Tribrid mass spectrometer (Thermo Scientific) could produce similar results.
For this reason, Brunner et al. (2015) used a 17.5-kDa N-terminal protein fragment (mitotic regulator aurora borealis, or Bora) to evaluate the hybrid fragmentation methods EThcD and ETciD against the standard ETD and HCD modalities on the Orbitrap Fusion Tribrid instrument. To do this, they monitored the phosphorylation of Bora by both Aurora kinase A (AurA) and Polo-like kinase 1 (Plk1).
In separate assays, the team incubated room temperature Bora with AurA and Plk1 using a 2:1 ratio in the presence of Mg2+ and ATP. In the case of AurA, the team reported Bora phosphorylation up to three times within 10 minutes of incubation and up to four times after two hours. At the later time point, they no longer detected unphosphorylated Bora, observing double phosphorylation as the most abundant proteoform. With Plk1, they also reported four phospho-states, with a total loss of unphosphorylated Bora and double phosphorylation as the most abundant species.
Brunner et al. reported a high overall sequence coverage (65–75%) for the ETD-based methods, with only minor variances over a range of ion/ion reaction times and normalized collision energy values. This suggests that the Orbitrap Fusion Tribrid system requires minimal optimization for each protein in top-down applications. Overall, EThcD slightly outperformed both ETciD and ETD, producing the highest coverage value.
The team evaluated region-specific sequence coverage, separately examining the N-terminal residues (1–52), middle residues (53–104) and C-terminal residues (105–156). For both N-terminal and C-terminal regions, EThcD again outperformed, with 80% and 82% sequence coverage, respectively. By contrast, other sequence coverage data for these regions were lower: ETciD = 69% and 72%, respectively; ETD = 65% and 78%, respectively; and HCD = 42% and 67%, respectively. For the middle region, ETciD and ETD both achieved 69% coverage, as compared to EThcD (62%) and HCD (37%).
Finally, the research team turned to the localization of phosphorylation sites. Although the previously described kinase assay data showed nearly identical phosphoproteins with an average of two to three phosphate groups, the top-down data illuminated distinct sites of phosphorylation by AurA and Plk1. The team reported that AurA preferentially phosphorylates pS64 and that the second site is less specific, producing several positional isomers including pS64/pT149, pS64/pS48 and pS64/pT20. Plk1 always phosphorylates pT43, followed by pS89 and with a less specific third site at either S37 or S64, depending on the phospho-isomer. Fully characterizing all the phospho-isomers remains a future challenge for top-down proteomics, but in all cases the hybrid fragmentation methods outperformed the traditional modalities, with HCD evidencing a very limited ability to localize sites.
Ultimately, Brunner et al. found that ETD-based methods (ETD, EThcD, ETciD) produced similar results for intact protein analysis, although EThcD performed slightly better. The authors note that enhanced coverage does not always translate to phosphosite localization and recommend manual interpretation of data, especially for proteins that are multiply-phosphorylated or positional phospho-isomers. Although the scientists worked with a single 17.5-kDa protein with multiple phospho-isomers, they optimized the parameters such that the protocol could be used with any protein </= 30 kDa, rendering it useful for a broad range of proteomics applications. The team offers compelling evidence that hybrid fragmentation methods like EThcD and ETciD can outperform traditional fragmentation in terms of protein sequence coverage and phosphosite localization.

Reference
1. Brunner, A.N., et al. (2015, March) "Benchmarking multiple fragmentation methods on an Orbitrap Fusion for top-down phospho-proteoform characterization," Analytical Chemistry, 87 (pp. 4152–58), doi: 10.1021/acs.analchem.5b00162 [e-pub ahead of print].
Post Author: Melissa J. Mayer. Melissa is a freelance writer who specializes in science journalism. She possesses passion for and experience in the fields of proteomics, cellular/molecular biology, microbiology, biochemistry, and immunology. Melissa is also bilingual (Spanish) and holds a teaching certificate with a biology endorsement.