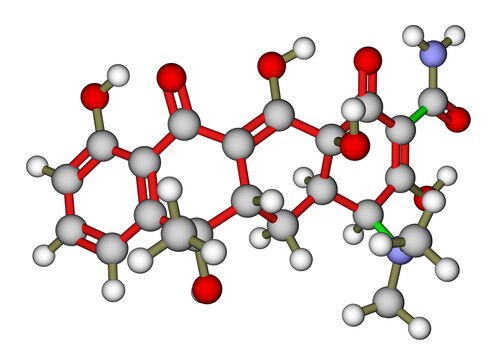 The tendency for antibiotics to persist in the environment after disposal or elimination into wastewater is a widely reported ecological issue. In recent years, research has focused on alternative methods of degrading these compounds. A growing body of evidence, however, suggests these protocols may produce transformation products that are more persistent and more toxic than the original contaminants. It is therefore imperative to develop robust tools to measure both known and unknown compounds, including transformation products, in order to assess the efficacy of alternative water treatment techniques.
Two common antibiotics, tetracycline and erythromycin, both enter wastewater essentially intact and may contribute to the development of "environmental antibiotic-resistant pathogens," with potential impact on both ecological integrity and human health. Llorca et al. (2015) have applied online turbulent flow chromatography (TFC) to pre-treat samples before subjecting them to high-resolution mass spectrometry (HRMS) using an LTQ Orbitrap hybrid ion trap-Orbitrap mass spectrometer (Thermo Scientific). Their stated purpose was two-fold: to investigate the specific performance of HRMS with online cleanup and to evaluate the efficiency of laccase and erythromycin esterase type II (EreB esterase) for the unmediated enzymatic breakdown of tetracycline and erythromycin, respectively, while screening for transformation products.
First, the researchers validated the approach and applied it to tetracycline, erythromycin and 25 additional antibiotics, with good results. The recovery values ranged from 51% to 115% for all antibiotics at three concentration levels. For tetracycline and erythromycin specifically, the recovery ranges were 69–84% and 103–115%, respectively. Overall, the team reported HRMS with online TFC to be robust and applicable across a range of water matrix types (buffered, tap, river, effluent/influent wastewater), with a 10-minute timeline for full spectral analysis.
The laboratory then turned to enzymatic degradation experiments requiring cleanup. For tetracycline (100 ug mL-1), the team reported 78% elimination after 18 hours of exposure to laccase (17.5 ug mL-1). They noted that, with the inclusion of mediators like veratryl alcohol or 1-hydroxybenzotriazole, previous studies had found tetracycline elimination rates of 99–100% within 30 to 60 minutes using crude lignin peroxidase and laccase, respectively. The elimination rate for erythromycin (100 ug mL-1) was slightly lower, at 52% degradation after 16 hours of treatment with EreB esterase (1.8 ug mL-1). The team observed a decrease in antibiotic activity nearing 100% for both antibiotics. The researchers detected three transformation products for tetracycline—TP 618, TP 396 and TP 431—and five for erythromycin: TP 734 (major product), TP 752, TP 750, TP 748A and TP 748B. With SIEVE software (Thermo Scientific), they used exact mass and parallel MS2 to propose structural formulas and tentative degradation pathways.
Llorca et al. present online TFC coupled to HRMS as a powerful screening tool for antibiotics and transformation products from varied water sources. They note that, in addition to increasing robustness and applicability, the online clean-up technique also reduces possible sample contamination and may even prolong the life of the Orbitrap mass spectrometer. In terms of environmental protection and human health, methodologies such as this one may assist researchers in developing and evaluating alternative methods for water treatment that eliminate not only parent antibiotics but also potentially toxic secondary compounds.
Reference
1. Llorca, M., et al. (2015, January) "Identification of new transformation products during enzymatic treatment of tetracycline and erythromycin antibiotics at laboratory scale by an on-line turbulent flow liquid-chromatography coupled to a high resolution mass spectrometer LTQ-Orbitrap," Chemosphere, 119 (pp. 90–98), doi: 10.1016/j.chemosphere.2014.05.072.
Post Author: Melissa J. Mayer. Melissa is a freelance writer who specializes in science journalism. She possesses passion for and experience in the fields of proteomics, cellular/molecular biology, microbiology, biochemistry, and immunology. Melissa is also bilingual (Spanish) and holds a teaching certificate with a biology endorsement.