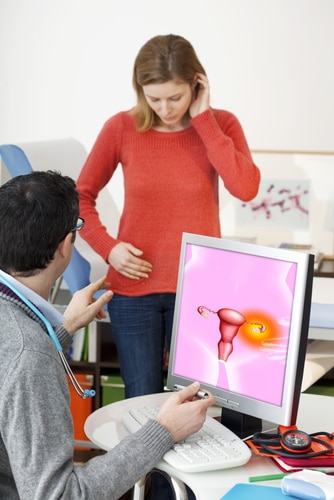 In their search for new biomarkers capable of early diagnosis and management of ovarian cancer, a highly lethal, gynecological malignancy, Smith and colleagues (2014) profiled the urinary peptidome as a non-invasive source of biological material.1 Their hypothesis, that alterations in the peptidome (the low-molecular weight proteome) could reflect disease presence, yielded 3,100 peptides unique to ovarian cancer and highlighted leucine-rich alpha-2-glycoprotein (LRG1) as a potential biomarker.
Patients with ovarian cancer frequently present initially in an already advanced stage of the disease. Prognosis is poor, with extremely low five-year survival rates. Although diagnostic markers exist, none of these are currently suitable for the confident diagnosis and monitoring of the disease.
Smith et al. postulated that increased protease activity in cancer cells—in combination with the breakdown in cell adhesion and cell-to-cell junctions, protein breakdown products or peptides—could be useful as novel biomarkers. They chose to characterize the peptidome of urine, citing it as a stable, non-proteolytic biological fluid. The researchers also noted that urine is easy to collect non-invasively.
The research team optimized their proteomics workflow using urine from one donor, spiking the sample with a number of synthetic peptides at various concentrations. In order to concentrate the low amounts of proteins normally found in urine, the researchers centrifuged the sample through filter units before strong cation exchange chromatography. They found that sample alkylation maximized the recovery of cysteine-containing peptides. Smith et al. analyzed the prepared samples with liquid chromatography– tandem mass spectrometry (LC-MS/MS) using an EASY-nLC liquid chromatograph coupled to an LTQ Orbitrap XL hybrid ion trap–Orbitrap mass spectrometer (Thermo Scientific). They then searched the data against the Human IPI database (v.3.7.1) for protein identification.
Once optimized, the researchers collected urine samples from six patients with confirmed ovarian cancer (OvCa) and from six age-matched, healthy control subjects. They examined each urine sample in triplicate. LC-MS/MS results showed 514 proteins (3,646 peptides) in the OvCa samples and 380 proteins (1,452 peptides) in the controls. The discovery of a greater number of peptides in OvCa urine samples supported the research team's hypothesis of greater metabolic and higher protease activity in malignancies.
Of these, 333 proteins and 3,155 peptides were unique to the OvCa samples. Smith et al. found 16 out of 59 previously recognized unique OvCa serum proteins in their samples. This included LRG1, which was represented by various peptide fragments in all six OvCa urine samples but by only one peptide fragment in a single control sample. The authors comment that they had already recognized this potential OvCa biomarker in ascetic fluid samples from OvCa patients and that it is increased in patient sera. They further comment that although LRG1 is also elevated in other conditions including ulcerative colitis and appendicitis, certain endogenous LRG1 peptides unique to OvCa could still be of value as biomarkers.
Reference
1. Smith, C.R., et al. (2014, June) "Deciphering the peptidome of urine from ovarian cancer patients and healthy controls," Clinical Proteomics, 11 (p. 23), doi: 10.1186/1559-0275-11-23.
Post Author: Amanda Maxwell. Mixed media artist; blogger and social media communicator; clinical scientist and writer.
A digital space explorer, engaging readers by translating complex theories and subjects creatively into everyday language.