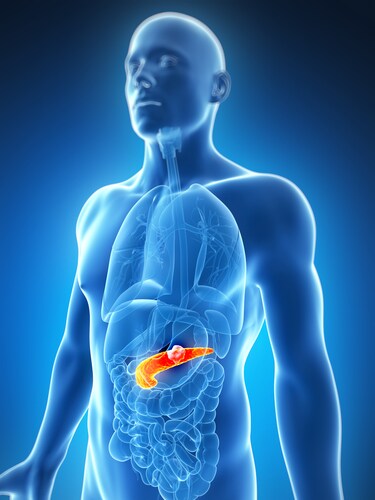 The research team of Tan et al. recently applied an optimized protocol that included Lens culinaris agglutinin (LCA) lectin affinity enrichment to enhance the detection of core fucosylation (CF) sites in serum derived from patients with pancreatic cancer.1 This optimized method addressed the challenge of signal suppression of low-abundance species by non-glycopeptides.
The scientists believe that the identification and quantification of site-specific CF aberrations in human serum possesses the potential to reveal novel pancreatic cancer biomarkers.
The team used 13 sets of serum samples, each containing specimens of pancreatic cancer and chronic pancreatitis, a healthy control, and a standard reference. They trypsin digested, iTRAQ labeled, LCA enriched, and partially deglycosylated these before subjecting them to liquid chromatography–mass spectrometry using an Easy-nLC II system coupled with an Orbitrap Elite hybrid ion trap-Orbitrap mass spectrometer and Xcalibur software (all Thermo Scientific). The researchers optimized CF elution efficiency in two steps, using regular elution buffer followed by elution buffer sans NaCl and the divalent cations Ca2+ and Mn2+. For data analysis, they relied upon Proteome Discoverer software (version 1.4, Thermo Scientific) and the SEQUEST HT search engine, determining functional properties using the Database for Annotation, Visualization and Integrated Discovery (DAVID) for gene ontology annotation.
Tan and co-authors ran each sample set in duplicate and detected an average of 295 CF glycopeptides and 174 CF glycoproteins. They found a maximum of 350 glycopeptides and 193 glycoproteins in one single run. The team believes this to be the largest dataset of its kind and notes that this demonstrates the optimized method's efficiency. The number of identified peptides increased with each run, indicating that human serum samples require more than three biological repeats to sufficiently detect global CF sites. This increase occurred rapidly across the first seven sets, resulting in 90% of the total peptide coverage, but only increased slightly after that.
Overall, the researchers reported that optimized LCA enrichment plus adequate sample sets resulted in the identification of 630 CF sites from 322 CF proteins and 613 CF peptides. These proteins were largely implicated in acute inflammatory response, wounding response, plasma protein activation (in acute inflammatory response) and other immune responses. Most of the proteins consisted of enzymes, peptidases and transmembrane receptors localized to the extracellular space and plasma membrane, consistent with connections previously drawn between N-linked glycoproteins and cancer-associated biological processes.2
Finally, Tan et al. conducted a comparative analysis, using iTRAQ, to draw conclusions about CF peptides/proteins identified between the groups represented in each sample set (i.e., pancreatic cancer, chronic pancreatitis, healthy controls and reference standard). As seen in Table 1, they found eight CF peptides (from eight CF proteins) that exhibited differential expression and emerged as potential biomarkers capable of distinguishing between pancreatic cancer and non-cancer (i.e., chronic pancreatitis or healthy controls).
Table 1. Core fucosylated (CF) proteins with differentially expressed peptides
| | |
| --- | --- |
| CF proteins | Differential expression of CF peptides between pancreatic cancer and chronic pancreatitis |
| voltage-dependent calcium channel subunit alpha-2/delta-1, VCCSA-1 | downregulated |
| complement C1q tumor necrosis factor-related protein 3, CCTNF3 | downregulated |
| receptor-type tyrosine-protein phosphatase eta, RTPE | downregulated |
| complement receptor type 2, CRT2 | downregulated |
| L-selectin, LSE | downregulated |
| alpha-1-antichymotrypsin, A1AC | downregulated |
| lysyl oxidase homologue 3, LOH3 | upregulated |
| macrophage mannose receptor 1, MMR1 | increased expression between pancreatic cancer and normal samples but no statistical significance between pancreatic cancer and chronic pancreatitis |

Of these peptides/proteins, two stood out as a combined biomarker panel with high potential for distinguishing between pancreatic cancer and non-cancer: voltage-dependent calcium channel subunit alpha-2/delta-1, and L-selectin. Tan et al. call for further research, including a large cohort study, to validate all eight candidate biomarkers.
References
1. Tan, Z., et al. (2015, April) "Large-scale identification of core-fucosylated glycopeptide sites in pancreatic cancer serum using mass spectrometry," Journal of Proteome Research, 14 (pp. 1968–78), doi: 10.1021/acs.jproteome.5b00068.
2. Saldova, R., et al. (2008) "Glycosylation changes on serum glycoproteins in ovarian cancer may contribute to disease pathogenesis," Disease Markers, 25 (pp. 219−32).