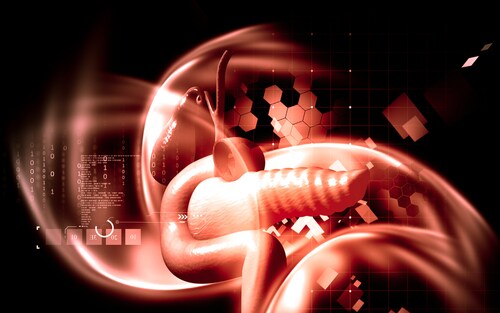 Phosphorylation, a common post-translational modification (PTM) that influences a protein's activity, can be a deciding factor in the selection of chemotherapeutics for successful cancer treatment. Britton et al. (2014) have developed a proteomics workflow, SysQuant, that quantifies changes in pancreatic cancer phosphopeptides and their allied pathways. This information can highlight relevant drug sensitivities for onward treatment and personalize therapy.
Using frozen pancreatic ductal adenocarcinoma samples with unaffected adjacent tissue as controls (n=12), the research team labeled tissue extracts for tandem mass tag (TMT) multiplexing. In conjunction with sample enrichment strategies, they used liquid chromatography–tandem mass spectrometry (LC-MS/MS) to quantify the pancreatic phosphorylome.
After extracting proteins from the tissue samples, the researchers digested the samples with trypsin before labeling them using TMT 8-plex tags (Thermo Scientific). They labeled four patient sample sets per TMT reaction, then mixed the resulting preparations to form a single 8-plex sample pool. They divided each sample pool into three different aliquots, using strong cation exchange chromatography to further separate the aliquots into twelve fractions. Britton et al. used the first aliquot for straightforward LC-MS/MS analysis using an LTQ Orbitrap Velos hybrid ion trap-Orbitrap mass spectrometer (Thermo Scientific). They enriched phosphopeptides in the remaining two aliquots using either titanium dioxide (TiO2) or immobilized metal affinity chromatography (IMAC) (Thermo Scientific) prior to LC-MS/MS analysis.
Once the scientists searched the acquired data against the UniProt KB/SwissProt database using Mascot and Sequest search algorithms via Proteome Discoverer software (Thermo Scientific), they identified a total of 6,543 phosphopeptide sequences from 2,101 proteins. They found that 5,409 of the phosphopeptide sequences were quantifiable, showing differential expression in protein levels between tumor and non-tumor tissues. These included proteins already shown as altered in pancreatic cancer, such as mucin-1, alongside the new potential biomarkers homeodomain-interacting protein kinase-1 (HIPK1) and myosin light chain kinase (MLCK).
Using a combination of bioinformatics tools, the researchers examined their data for protein–protein associations, clustering, signaling pathways, drug interaction networks and phosphorylation site relevance. They found variations in peptide phosphorylation between non-tumor and tumor tissues, showing that regulation of proteins and kinases exists in pancreatic cancer. Britton et al. note that these activation data are of particular interest in determining drug sensitivities for onward chemotherapy.
Commenting on the phosphopeptide enrichment step, the authors consider this valuable in the workflow—they found it especially useful for extracting low-abundance proteins. They also discuss potential drawbacks in their method, remarking that tissue harvesting might affect phosphorylation, and they note that they analyzed whole tissue instead of specific cell types..
Overall, Britton et al. are confident that their SysQuant system enables a "seamless workflow" for simultaneous quantitation of multiple proteins, allowing a thorough investigation of pathways susceptible to personalized treatment in pancreatic cancer.
Reference
1. Britton, D., et al. (2014) "Quantification of Pancreatic Cancer Proteome and Phosphorylome: Indicates Molecular Events Likely Contributing to Cancer and Activity of Drug Targets," PLOS ONE 9(3), doi: 10.1371/journal.pone.0090948.
This study was partly funded by Proteome Sciences. Proteome Sciences produces the TMT reagents used in this study, and these reagents are now licensed for distribution by Thermo Fisher Scientific.
Post Author: Amanda Maxwell. Mixed media artist; blogger and social media communicator; clinical scientist and writer.
A digital space explorer, engaging readers by translating complex theories and subjects creatively into everyday language.