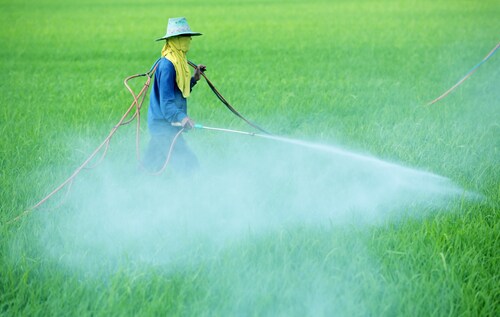 When spray-applying pesticides, a portion of the chemicals strays into non-target areas (due to spray drift) and another percentage enters the atmosphere directly. Over time, wind erosion may move additional chemicals into the troposphere. Currently-used pesticides (CUPs) in the ambient air have been reported in concentrations sufficient to merit environmental concern.
In this study, Coscollà et al. used quantitative analysis, along with post-target screening that used a comprehensive database of 300 substances, to monitor for 35 CUPs—including metabolites and other substances—in ambient air.1 This represents the first reported study using liquid chromatography–high-resolution mass spectrometry (LC-HRMS) to screen for target pesticides in this matrix.
To accomplish this, the team collected 10 particulate matter samples (<10 µm in diameter) from a rural area adjacent to Alzira, in the Valencia region of Spain. They applied a generic extraction method drawn from previous work2 before subjecting the samples to LC-HRMS using an Accela ultra-high-performance LC system coupled to a Q Exactive hybrid quadrupole-Orbitrap mass spectrometer (Thermo Scientific). They relied upon TraceFinder software (version 3.1, Thermo Scientific) for data acquisition and processing.
The research team reported mean recoveries within the acceptable range (73–116%) and overall repeatability below 20%. For the majority of the pesticides, the limit of quantitation was 6.5 pg m-3, which is in keeping with reported values for tandem MS applications.
The team identified four pesticides in the samples: carbendazim, metalaxyl, terbuthylazine and myclobutanil. They reported carbendazim and metalaxyl detection in all 10 samples, with concentration ranges of 66.7–174.2 pg m−3 and 16.6–58.2 pg m−3, respectively. They detected terbuthylazine in six samples, with a concentration range of 13.2–73 pg m−3. Myclobutanil appeared in only one sample.
Post-screening analysis revealed additional pesticides, including endothal and fenfuram. Both of these pesticides have been banned in the European Union and thus represent illicit applications. Post-target analysis also identified two organophosphate flame retardants, tri(n-butyl)phosphate (TnBP) and Tris(2-butoxyethyl)phosphate (TBEP). The option to retroactively reprocess the full-scan data for new compounds is a distinct benefit of the method used here.
Coscollà et al. indicate that their ongoing work includes compiling an in-depth post-target analysis of the samples. Overall, they offer a novel LC-HRMS protocol for the monitoring of target pesticides, metabolites and other substances in ambient air samples. Harnessing the power of Q Exactive–Orbitrap mass spectrometry to quantify large quantities of compounds at low concentrations, this represents an important step forward for European pesticide monitoring.
References
1. Coscollà, C. et al. (2014) "Combined target and post-run target strategy for a comprehensive analysis of pesticides in ambient air using liquid chromatography-Orbitrap high resolution mass spectrometry," Journal of Chromatography A, 1368 (pp. 132–42).
2. Coscollà, C., et al. (2009) "Multi-residue analysis of 30 currently used pesticides in fine airborne particulate matter (PM 2.5) by microwave-assisted extraction and liquid chromatography-tandem mass spectrometry," Journal of Chromatography A, 1216 (pp. 8817–27).
Post Author: Melissa J. Mayer. Melissa is a freelance writer who specializes in science journalism. She possesses passion for and experience in the fields of proteomics, cellular/molecular biology, microbiology, biochemistry, and immunology. Melissa is also bilingual (Spanish) and holds a teaching certificate with a biology endorsement.