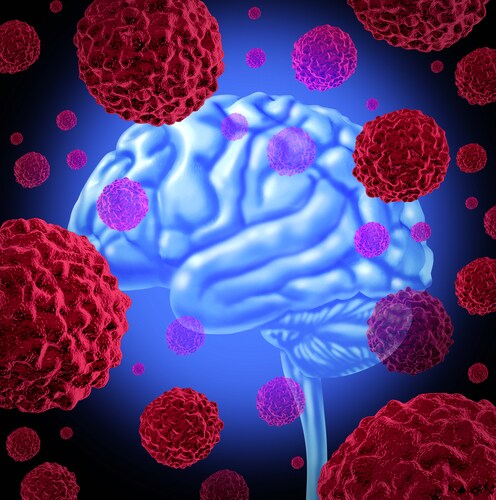 The World Health Organization classifies pilocytic astrocytoma, the most common brain tumor among pediatric patients, as a grade I tumor, indicating its association with lower malignancy and better prognosis. After gross local resection, the likelihood of recurrence is low (10–20%), while the 10-year overall survival rate is high (up to 96%). Despite this, clinicians have little understanding of the pathogenesis of pilocytic astrocytoma. Researchers believe that characterizing the proteome of the intracystic fluid could offer insight into the molecular mechanisms that underlie tumor formation and also identify therapeutic targets.
Inserra et al. combined two approaches—top-down and bottom-up—to provide the first proteomic analysis of intracystic fluid from pilocytic astrocytoma pediatric brain tumor.1 The researchers noted that top-down techniques characterize whole, low molecular weight proteins, enabling the identification of isoforms and post-translational modifications (PTMs). The bottom-up approach, on the other hand, analyzes digested proteins and assigns protein identifications using peptide data.
The research team used samples of intracystic fluid that had been needle-aspirated from four pediatric patients. After pretreatment, they directly analyzed the top-down samples using high-performance liquid chromatography–electrospray ionization mass spectrometry (HPLC-ESI-MS) on an LTQ Orbitrap XL hybrid ion trap-Orbitrap mass spectrometer (Thermo Scientific). The team subjected bottom-up samples to disulphide bond reduction and trypsin digestion before analysis. In each case, the team collected both full-scan and data-dependent data, which they elaborated using Xcalibur software and Protein Discoverer software (both Thermo Scientific).
Top-down analysis revealed 24 proteins/peptides and hypothesized PTMs, including truncation, oxidation and glycosylation. Several notable bioactive species and associated characteristics are detailed in the table below.
| | |
| --- | --- |
| Fibrinopeptide A and its truncated form, fibrinopeptide B | Fibrinopeptide A isoforms are linked to various cancers, including urothelial, gastric, hepatocellular, ovarian, thyroid, colorectal and prostate |
| Complement C3f fragment | Associated with benign cystic breast disease and leukemia as well as breast, thyroid, bladder, prostate, colorectal and hepatocellular cancers |
| N-terminal truncated cystatin C | Proposed immune response regulator |
| Thymosin β4 | Likely a product of tumor cell secretion; antiapoptotic and associated with tumor proliferation and metastasis via angiogenesis and cellular migration |
| Thymosin β10 | Likely a product of tumor cell secretion; linked to cancer progression and metastasis (underlying mechanism remains uncertain) |
The researchers also noted high representation of proteins from the apolipoprotein family (A I, A II, C I, C II, C III, J) . These proteins participate in lipid transport and metabolism and have been linked to both essential organismal functions and tumor formation. Several apolipoproteins have previously emerged as cancer biomarkers.
Bottom-up analysis revealed 19 proteins, including serum albumin and several apolipoproteins (A I, A II, C II, D). Notably, this technique singularly identified apolipoprotein D—a previously confirmed diagnostic biomarker that inversely correlates with tumor proliferation for astrocytoma and medulloblastoma tumors—in these samples. Other proteins included vitamin D-binding protein (isoform 2), alpha-1-acid glycoproteins 1 and 2, and TRAF3-interacting protein 1 (isoform 2).
Inserra et al. posit that the data compiled using this complementary proteomics approach to analyzing pilocytic astrocytoma tumor fluid enhance the current understanding of tumor formation and disease development. They hope that this information updates existing bioinformatics and ultimately assists future research in identifying candidate biomarkers and therapeutic targets.
Reference
1. Inserra, I., et al. (2014, September) "Proteomic Study of Pilocytic Astrocytoma Pediatric Brain Tumor Intracystic Fluid," Journal of Proteome Research, 13 (pp. 4594–606), doi: 10.1021/pr500806k.