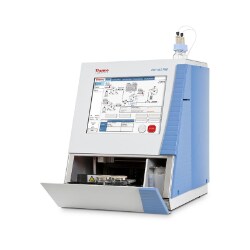 The post-translational modification that results when proteases cleave a peptide bond, creating new N-terminal amino acids, affects the outcome for the modified protein, as well as the proteins with which it interfaces downstream. Because the N-terminus and its modification have been demonstrated to influence protein stability and half-life, the study of proteases and their substrates, including the site of proteolysis, is an essential component of proteomics-based drug development.
Recently, Blank et al. offered a complete workflow for the identification and quantification of new N-termini via liquid chromatography–mass spectrometry (LC-MS) using terminal amino isotopic labeling of substrates (TAILS) with TMT10-plex (tandem mass tagged) reagents.1
The research team grew immortalized B-cell lymphocytes (procured from two healthy donors and the relative of an immuno-compromised patient) with and without stimulation by PMA-ionophore. They prepped the proteins and labeled the N-termini and lysine residues using the TMT10-plex reagents (200 mg protein per label). After digestion and negative enrichment, the team subjected the samples to LC-MS using an Easy-nLC 1000 liquid chromatograph and Easy-spray source coupled with an Orbitrap Fusion Tribrid mass spectrometer (all Thermo Scientific) set to perform synchronous precursor selection (SPS) MS3 quantitation. The team carried out three versions of the workflow: pre-TAILS, TAILS-enriched SPS MS3 using CID fragmentation, and TAILS-enriched SPS MS3 using data-dependent decision tree CID/ETD fragmentation.
The team relied on the Proteome Discoverer software's (version 2.0) comprehensive processing pipeline, which features a fully integrated Byonic search engine, for data analysis (Thermo Scientific). They also searched the spectra using Mascot software (version 2.3.0) for comparison purposes. The researchers found that the integrated Byonic search engine offered a 40% increase in identified protein groups and a 70% increase in unique peptide identifications when compared with the Mascot system. In total, they generated approximately 3,000 identified proteins from approximately 18,000 unique peptides.
The team reports that TAILS enabled the identification of over 2,500 protein groups and 5,600 unique N-terminal peptides (original and neo). They noted a significant increase in the abundance of N-terminally acetylated and N-terminally TMT10-plex labeled peptides (see Table 1). Because TMT labeling occurred on whole proteins, these peptides were all N-termini. Over 92% of the in-sequence neo-N-termini were quantifiable. The team observed that the Proteome Discoverer software eases the identification of protease motifs by annotating flanking residues.
Table 1. Significant increase in N-terminal TMT10-plex labeled and acetylated peptides with TAILS1
SPS MS3

TAILS-enriched

CID SPS MS3

TAILS-enriched

DDDT CID/ETD

SPS MS3

Protein groups identified

2,987

2,573

2,380

Protein groups quantified

2,533

1,604

1,552

Unique peptides identified

17,250

5,626

5,579

Unique peptides quantified

10,681

3,137

3,209

Lysine TMT labeled

10,791

2,543

2,685

N-terminal peptide TMT

167

777

951

N-terminal protein TMT

121

350

383

N-terminal acetylated

670

2,737

2,591

The team also noted a wider distribution of ratios and more accurate relative abundance associated with MS3 (as compared with MS2) quantitation as a result of minimized co-isolated interference, which impacts reporter ion intensities. Overall, Blank et al. indicate that combining TAILS enrichment with multiplexing TMT, high-resolution SPS MS3, and flexible data analysis software produces deeper profiling of the N-terminome.
Reference
1 Blank, M.A., et al. (2014) "TMT10 TAILS workflow for identification and quantitation of the N-terminome by terminal amino isotope labeling of substrates," Thermo Scientific poster note PN-64116-EN-0614S.
Post Author: Melissa J. Mayer. Melissa is a freelance writer who specializes in science journalism. She possesses passion for and experience in the fields of proteomics, cellular/molecular biology, microbiology, biochemistry, and immunology. Melissa is also bilingual (Spanish) and holds a teaching certificate with a biology endorsement.