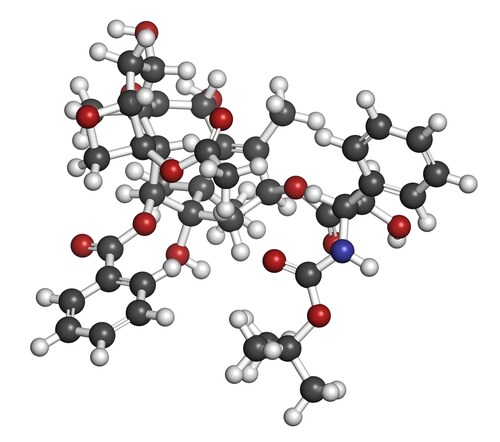 When developing anti-cancer or anti-tumoral agents, researchers seek to exploit cytotoxic potential against resistant tumors while maintaining the integrity of healthy cells. Taxanes are a class of drugs that act as mitotic inhibitors and function by disrupting cell division in targets. For this reason, taxanes are widely used in chemotherapy. TM-21 is a novel taxane derivative compound that possesses a structural alteration at the C-3' position that renders it effective against multiple drug resistance. TM-2 also presents high efficacy against cancer and promising pharmacokinetic properties, leading to its selection for preclinical evaluation.
In this study, Men et al. (2014) used an LTQ Orbitrap hybrid ion trap-Orbitrap mass spectrometer (Thermo Scientific) to perform liquid chromatography–mass spectrometry (LC-MS) in order to probe TM-2 metabolic activity in a rat model. To do this, they intravenously administered 16 mg/kg and 8 mg/kg of TM-2 to two sets of eight Sprague-Dawley rats. They then collected urine (20 mL, evaporated), fecal (1 g, ground) and bile (1 mL) samples. The researchers extracted the samples with 3 mL ethyl acetate and redissolved the residue in 100 μL acetonitrile/water (20:80) before injecting 5 μL aliquots for LC-MS.
For LC-MS, the researchers relied upon a 50×2.1 mm Syncronis 1.7 μm C18 column (Thermo Scientific) for chromatographic separation. They used 10 mM ammonium acetate and acetonitrile for the mobile phase. They performed gradient elution over a 28-minute timeframe at a 0.2 mL/min flow rate as follows: acetonitrile increased from 20% to 40% by minute 2; increased to 50% by minute 12; increased to 65% by minute 17; increased to 90% by minute 22; reduced to 20% until minute 28 to re-establish equilibrium. The team obtained spectral data using electrospray ionization (ESI) in positive ion mode.
MS detection revealed that TM-2 metabolized in fecal and bile samples but could not be detected in urine samples. The researchers note that the low concentrations of the metabolites in the samples rendered data interpretation more difficult. Overall, they detected 17 metabolites in the biological samples, mostly comprising oxidates (methoxyl, hydroxyl, dihydroxyl and trihydroxyl analogues). The TM-2 metabolic pathway appeared similar to that of other taxane drugs with CYP-mediated oxidative metabolism. The cytochrome P450 isoenzyme 3A subfamily (CYP3A) was the most likely metabolic agent for TM-2. The investigators indicate the need for further research into the active metabolic enzymes and potential drug interactions.
Men et al. did not detect the C-10 deacetylated derivative and side-chain hydrolysis metabolite commonly found in other taxanes. They posit that the TM-2 structural modification at C-3' may alter the major metabolism site in a way that inhibits the production of this metabolite. They also noted the absence of conjugated metabolites of TM-2, most likely due to the overall low concentrations. The researchers expect the metabolic data revealed in this study will aid in further evaluation of TM-2, in terms of both toxicology and in vivo testing.
Note
1. 13-(N-Boc-3-i-butylisoserinoyl-4,10-β-diacetoxy-2-α-benzoyloxy-5-β,20-epoxy-1, 13-α-dihydroxy-9-oxo-19-norcyclopropa[g]tax-11-ene.
Reference
Men, L., et al. (2014) "Metabolism of TM-2, a potential antitumor drug, in rats by using LC-MS," Journal of Separation Science, 37(6) (pp. 625–9), doi: 10.1002/ jssc201301251.
Post Author: Melissa J. Mayer. Melissa is a freelance writer who specializes in science journalism. She possesses passion for and experience in the fields of proteomics, cellular/molecular biology, microbiology, biochemistry, and immunology. Melissa is also bilingual (Spanish) and holds a teaching certificate with a biology endorsement.