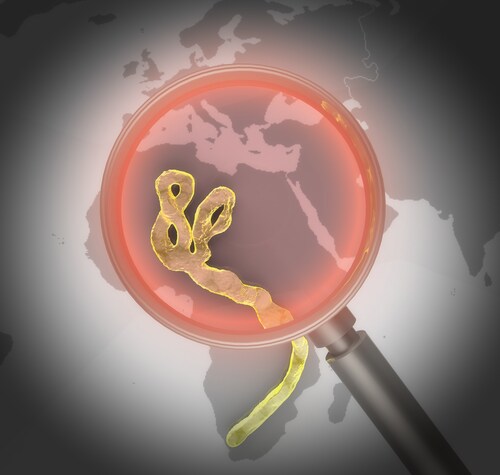 The Ebola virus, occurring in western and central Africa, has a high fatality rate among those who have been infected. Five subtypes of Ebola have been discovered. Of these, the Zaire Ebola subtype is known as one of the most toxic, with a high rate of pathogenicity and infectiousness.
A research team from China has recently published a study investigating antigens and potential vaccine targets aimed at the Zaire Ebola virus.1 According to Wang et al., glycoproteins play a critical role in the pathogenicity of the Ebola virus and could lead to the discovery of an Ebola vaccine. In their study, the researchers explain that viral-vector-based Ebola vaccines expressing glycoproteins have been effective in non-human primates; however, they report it is difficult to prepare vaccines that express several glycoproteins in a single vector. Instead, this group looked for fragments present in Zaire Ebola virus glycoprotein that could be used to produce an effective vaccine.
The researchers investigated the Zaire Ebola virus fragment MFL (aa 393-556), as well as MFL, MFLA, MFLM and MFLB, which have been reported in previous studies to induce neutralizing antibodies. They hypothesized that the furin site and internal fusion loop contained within the glycoprotein fragment might effectively inhibit Ebola infection.
For their experiments, the researchers synthesized the Zaire glycoprotein gene (ZGP) and cloned it into the pCAGGS vector. They amplified the coding regions of the ZGP using a recombinant plasmid as the template and inserted the PCR products into the cloning sites of pET24a(+)vector. They expressed and purified recombinant proteins using standard protocols and a BCA protein assay kit (Thermo Scientific).
The scientists also prepared recombinant plasmids by amplifying the coding regions of ZGP and its fragments (MFL, MFLA, MFLM and MFLB) using pCAGGS-ZGP. To do this, they inserted the PCR fragments into the cloning site of a pVAX1 vector and added Flag-tag at the C-terminus. They sequenced each of the recombinant plasmids, designating them as pVAX1-ZGP, pVAX1-MFL, pVAX1-MFLA, pVAX1-MFLM, and pVAX1-MFLB, respectively.
To produce the rVSVΔG-based vaccines, the research team digested the plasmid rVSVΔG-GFP to produce the rVSVΔG vector fragment for the expression of the antigen gene. The team then infected BHK21 cells with recombinant vaccinia virus expressing T7 RNA polymerase (vTF7-3, ATCC) at MOI = 5.
Once the vaccines had been rescued from the BHK21 cell culture, Wang and colleagues injected 100 female 6- to 8-week-old BALB/c mice with six vaccine variations—either pVAX1, pVAX1-ZGP, pVAX1-MFL, pVAX1-MFLA, pVAX1-MFLM, or pVAX1-MFLB. They performed three immunizations for the same plasmid at 2-week intervals (Days 0, 14 and 28).
Following extensive testing, the researchers were able to determine that the fragment MFL derived from Zaire Ebola glycoprotein induced a strong humoral immune response. The high levels of antibody produced were similar to the levels of ZGP. Wang et al. were also successful at neutralizing rescued virus rVSVΔ-ZGP infection, which further demonstrated the effectiveness of MFL fragment.
Based on this work, the team concluded that the protein fragment MFL is an effective antigen for the production of a vaccine against the Ebola virus.
Reference
1. Wang, Y., Liu, Z., and Dai, Q. (2014, August) "A highly immunogenic fragment derived from Zaire Ebola virus glycoprotein elicits effective neutralizing antibody," Virus Research, 189 (pp. 254–61), doi: 10.1016/j.virusres.2014.06.001.
Post Author: Emily Humphreys. As a biology undergraduate at the University of Utah, Emily balanced a heavy class schedule while working long hours in a lab studying eye development. Following graduation, she became involved in infectious disease and aging research involving SNPS.
While she enjoyed the thrill of research, Emily has since traded bench work for science journalism.
And has been a regular contributor to Accelerating Science since 2012.