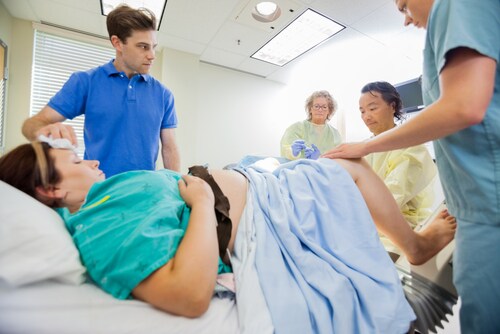 The World Health Organization (WHO) estimates that, each year, 15 million babies are preterm, or delivered before 37 weeks gestation.1 Across the globe, this represents 5% to 18% of all births. Complications arising from preterm delivery are the leading cause of neonatal death worldwide, resulting in over 1 million annual deaths. For those who do survive, clinical outcomes include increased risk of life-impacting disability.
The WHO notes that preterm birth is a stark indicator of global economic disparities. In low-income areas, fully half the neonates born before 32 weeks die. The majority of these deaths (75%) would be preventable with the appropriate interventions, which include access to antenatal steroid injections to strengthen the developing lungs of babies at increased risk for preterm delivery, antibiotics to treat neonatal infections, and breastfeeding support. For these reasons, the identification of reliable, cost-effective biomarkers accurately predicting preterm delivery is crucial, particularly for women residing in low-income areas.
Recently, Hillman-Cooper et al. utilized an LTQ Orbitrap hybrid ion trap-Orbitrap mass spectrometer (Thermo Scientific) to identify plasma biomarkers capable of predicting preterm versus term birth.2 To do this, they took plasma samples from 82 women exhibiting symptoms of threatened preterm delivery at the time of presentation and also within 24 hours of delivery. They allocated these samples to 10 sets, each containing a control, a low-risk antenatal sample, and antenatal and postnatal samples from a symptomatic woman who delivered at term, and antenatal and postnatal samples from a symptomatic woman who delivered at preterm. The team used the LTQ Orbitrap mass spectrometer to monitor protein-level changes in the samples.
The research team found that, although most mid-gestation protein changes are small, notable dysregulation did occur that highlighted at least one potential plasma biomarker with clinical significance for predicting preterm labor. In all term samples, the team noted upregulation of two proteins: haptoglobulin and pappalysin-1; these proteins were not upregulated in preterm samples. They also observed five proteins upregulated in postnatal term samples and downregulated in postnatal preterm samples: alpha-2 macroglobulin, Ig kappa chain V-I region Lay, Ig kappa chain V-I region BAN, corticosteroid-binding globulin, and cysteine-rich secretory protein 3. Of these, alpha-2 macroglobulin emerged as an excellent plasma biomarker candidate because it demonstrated significant upregulation in antenatal preterm samples, as compared to gestation-matched, low-risk asymptomatic samples.
Hillman-Cooper et al. believe the outcomes of this study reveal clinically significant variations in the mechanisms underlying term versus preterm delivery. These findings could enhance the body of knowledge available for labor in general and preterm delivery in particular. Ultimately, this data—along with the development of reliable, cost-effective plasma biomarkers—could set the stage for real-world interventions to address the stark realities of preterm birth in low-income areas. The ability to predict pregnancies at high risk for early delivery could allow clinicians to match expectant mothers with appropriate therapeutic interventions and community support services.
References
1. World Health Organization. (2013, November) "Preterm Birth Fact Sheet No. 363," available at http://www.who.int/mediacentre/factsheets/fs363/en.
2. Hillman-Cooper, C.S., et al. (2014) "PLD.03 Proteomics—A solution for the preterm puzzle?" Archives of Disease in Childhood: Fetal and Neonatal Edition, 99 (p. A106), doi: 10.1136/archdischild-2014-306576.304.
Post Author: Melissa J. Mayer. Melissa is a freelance writer who specializes in science journalism. She possesses passion for and experience in the fields of proteomics, cellular/molecular biology, microbiology, biochemistry, and immunology. Melissa is also bilingual (Spanish) and holds a teaching certificate with a biology endorsement.