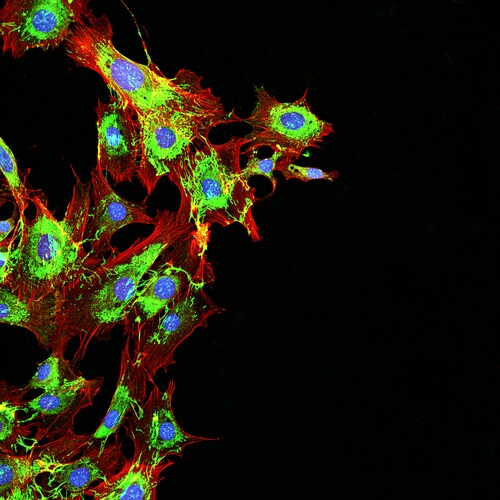 Recently, Sato et al. investigated protein expression in the 4T1 murine breast cancer model system.1 When 4T1 cells are injected into the mammary tissue of mice, they induce tumor growth that is very similar to a highly metastatic type of breast cancer known as triple-negative, basal-like breast cancer, which is seen in humans. Developing a secondary cancer, particularly lung cancer, is common with this type of breast cancer. Some research suggests that TGF-β antagonists can suppress 4T1 lung metastasis through a combination of different effects.2 What's more, TGF-β can initially act as a tumor suppressor but then switch to a pro-oncogenic factor at later disease stages.
Seeking to learn more about TGF-β-induced metastasis, Sato and colleagues injected six-week-old mice with 4T1 cells and allowed the tumors to grow. In some of the mice, they treated tumors with a TGF-β inhibitor (a receptor I kinase inhibitor, SB-431542). The team hypothesized that by suppressing TGF-β, they might be able to distinguish proteomic changes associated with TGF-β.
After letting tumors grow, the researchers sacrificed both the treated and non-treated mice and resected the tumors. Using the phase transfer surfactant (PTS) method, they prepared protein extracts and then digested protein lysates with trypsin. Next, they carried out dimethyl labeling prior to fractionation with strong cation exchange chromatography.
Using a LTQ Orbitrap Velos hybrid ion trap-Orbitrap mass spectrometer (Thermo Scientific), the team identified 36,239 peptides from 6,694 proteins. Of those results, 4,531 proteins were differentially expressed. They further identified a subset of proteins using Western blotting and immunohistochemistry.
The team found that treating 4T1 mice with SB-431542 did not affect growth of the primary tumor, but did significantly inhibit lung metastasis. The team also determined that the signaling pathways involving the eukaryotic translation initiation factors eIF2 and eIF4 were the most enriched pathways in metastatic mice. The team further saw that these proteins can be down-regulated by TGF-β pathway inhibitors and considered novel potential mediators of TGF-β tumor-promoting activity.
In conclusion, the team maintains that this work reveals eIF signaling as a potential novel therapeutic target for preventing breast cancer metastasis
References
1. Sato, M., et al. (2015) "Differential proteome analysis identifies TGF-β-related pro-metastatic proteins in a 4T1 murine breast cancer model," PLoS One 10(5), doi: 10.1371/journal.pone.0126483.
2. Nam, J.S., et al. (2008) "An anti-transforming growth factor beta antibody suppresses metastasis via cooperative effects on multiple cell compartments," Cancer Research 68(10) (pp. 3835-43), doi: 10.1158/0008-5472.CAN-08-0215.