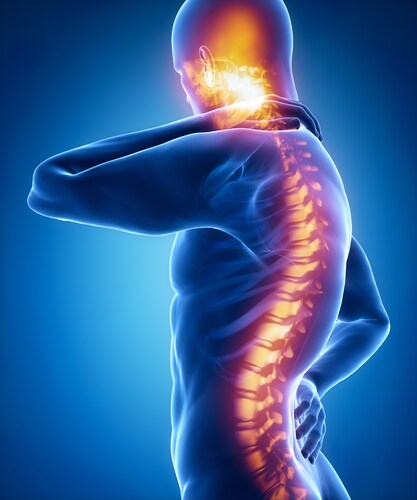 Following the initial insult, aggressive inflammatory responses in spinal cord tissue cause extensive damage and loss of nerve tissue integrity. Post-scarring, there is very little functional repair, and researchers have only a limited understanding of why this is so. Didangelos et al. (2015) investigated a rat model of traumatic spinal cord injury to assess changes in the proteome that might give better understanding of the acute events surrounding loss of function.1
The researchers created traumatic spinal cord injury using female Sprague Dawley rats. At eight weeks post-injury, the team extracted proteins from injured and uninjured cord sections, preparing similar sections from control animals for comparison. They analyzed the protein extracts using Western immunoblotting following sodium dodecyl sulfate polyacrylamide gel electrophoresis (SDS-PAGE) and also mass spectrometry–based proteomic characterization. Sample preparation for proteomics analysis included enrichment for extracellular matrix (ECM) fractions. Didangelos et al. used a guanidine buffer to solubilize ECM proteins following initial SDS disruption of cellular membranes.
First, the researchers validated the sample preparation step, showing that the enrichment process resulted in the complete extraction of the cellular fraction, leaving only the ECM proteome remaining for subsequent proteomic analysis. Using Western immunoblotting with specific antibodies, the team identified markers for the ECM proteome following SDS-PAGE of enriched sample preparations but not those specific to the cellular proteome.
Didangelos et al. then examined the enriched samples by liquid chromatography–tandem mass spectrometry (LC-MS/MS) using an Easy-nLC 1000 system in conjunction with a Q Exactive mass spectrometer (both Thermo Scientific) to investigate differential protein expression following traumatic spinal cord injury. From the spectral data, they identified 2,346 proteins, with further analysis showing altered abundancies in the spinal cords post-injury. Overall, the injured tissues showed more variation in the composition of the proteomes characterized.
Through network analysis using BiNGO to determine dominant gene ontology, Didangelos et al. found that ECM proteins downregulated with injury included those involved in small-molecule metabolic processes, vesicle-mediated transport, mitochondrial respiratory chain and protein folding. Those upregulated by damage were involved in translation, extracellular regional activity, cytoskeletal binding and RNA binding. The researchers confirmed protein identities using immunoblotting.
Using spinal cords collected at five weeks post-injury, the researchers used mRNA expression to confirm the proteomics data, looking at the persistently over-expressed biological mediators of inflammation from the alarmins group. They found increased expression of tenascin, calreticulin, HMGB1 and biglycan, which they also saw in conditioned medium collected from spinal cord explants cultured from one week post-injury. The team also found increased levels of the TLR4 receptor, involved with signaling from endogenous ligands including tenascin and HMGB1, in the explant-conditioned medium. They further explored the role of this pathway using rat primary fibroblast cultures, where silencing the TLR4 receptor using small interfering RNA (siRNA) abolished release of classical inflammatory markers NOS, IL6 and TNFα following incubation with medium conditioned by injured cells. This response also occurred following treatment with an antibody against HMGB1.
Didangelos et al. conclude that the alarmin group of biological mediators are involved in tissue response to traumatic spinal cord injury in the rat. Further characterization of the pathways implicated could open up new areas for drug discovery and treatment.
Reference
1. Didangelos, A. et al. (2015) "High-throughput proteomics reveal alarmins as amplifiers of tissue pathology and inflammation after spinal cord injury," Nature Scientific Reports, 6:21607. doi: 10.1038/srep21607
Post Author: Amanda Maxwell. Mixed media artist; blogger and social media communicator; clinical scientist and writer. A digital space explorer, engaging readers by translating complex theories and subjects creatively into everyday language.