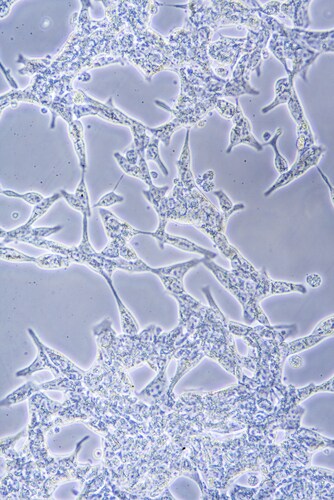 Although prostatic cancer is extremely common among Western males, sensitive and accurate clinical biomarkers are not available. The common serum marker, prostate-specific antigen (PSA), cannot differentiate between patients at risk of metastatic disease and those with benign hypertrophy, leading to over-diagnosis and over-treatment.
In the hunt for a valid biomarker, Duijvesz et al. turned their attention to exosomes, tiny packets of proteins and genetic information released by cells, which may be implicated in the pathogenesis of certain key features in cancer progression.1 The team's experimental design included a proteomics-based approach suitable for identifying and quantifying low-abundance proteins within biological samples.
The researchers used two pairs of prostatic cell lines—non-cancerous epithelial controls (PNT2C2 and RWPE-1) and carcinoma (PCa)-derived (PC346C and VCaP) cell lines—to compare proteome profiles of exosomes isolated from each culture. In examining differential protein expression within the exosomes, the scientists identified potential biomarkers exclusive to the carcinoma cell lines that were further screened in patient serum and tissue samples.
The team then established cell lines, culturing them to near-confluence before harvesting exosomes for further analysis. They positively identified the existence of the isolated exosomes by examining the media using electron microscopy. Exosomes were typically 70–200 nm in diameter.
Once isolated, the researchers carried out lysis on the exosomes before digestion in trypsin prior to proteomic analysis. They used an LTQ Orbitrap Velos (Thermo Scientific) for liquid chromatography–tandem mass spectrometry (LC-MS/MS) and accurate mass and time (AMT) tag approach to quantify peptides observed. The investigators compared spectral data with the UniProt human protein database using SEQUEST software. Once gathered, the researchers screened the data further to select only prostate-specific gene products and then assembled them into an exosome-specific AMT tag database for forward analysis.
The co-authors used data from the initial LC-MS/MS spectral scans to characterize the proteome profiles from each cell line. Using stringent conditions (i.e., identification by two or more peptides), the researchers identified 263 proteins and found that clustering distinguished the exosomes isolated from control epithelials from those harvested from carcinoma cells. After quantifying the proteins, Duijvesz et al. found that 52 showed a significant change in abundance between the two groups; nine proteins were over-expressed in the carcinoma lines (p<0.05) as compared with control levels, and the remainder were reduced.
The scientists narrowed down their selection further by statistical analysis (ANOVA pair-wise comparison, p and q values <0.05) of protein expression levels between control and carcinoma cell lines. Proteins identified as programmed cell death 6-interacting protein (PDCD6IP), fatty acid synthase (FASN), CD-9 antigen (CD9), and alpha-enolase (ENO1), all of which had significant changes in abundance, were chosen for additional biomarker analysis. For further investigation, the team included exportin-1 (XPO1), which forms part of a nuclear export receptor complex, even though levels were significantly altered only in VCaP cells.
The researchers confirmed the identity of the putative biomarkers using Western blotting of exosome lysates, confirming that levels of FASN, XPO1, PDC6IP and CD9 were increased in PCa cell lines, whereas ENO1 was reduced, as shown by LC-MS/MS analysis. Duijvesz and co-authors confirmed these results, showing biomarker presence within clinical samples by immunohistochemistry of paraffin-embedded PCa tissue samples to localize protein signals within cells.
In conclusion, Duijvesz et al. propose that these new candidate biomarkers be considered for PCa diagnosis and monitoring. Because they are derived from cell culture study, however, the authors acknowledge that their use should be evaluated in clinical specimens such as urine, serum and tissue from larger cohorts of patients.
Reference
1. Duijvesz, D., et al. (2013) "Proteomic Profiling of Exosomes Leads to the Identification of Novel Biomarkers for Prostate Cancer," Public Library of Science ONE 8(12) (p. e82589), doi: 10.1371/journal.pone.0082589.
Post Author: Amanda Maxwell. Mixed media artist; blogger and social media communicator; clinical scientist and writer.
A digital space explorer, engaging readers by translating complex theories and subjects creatively into everyday language.