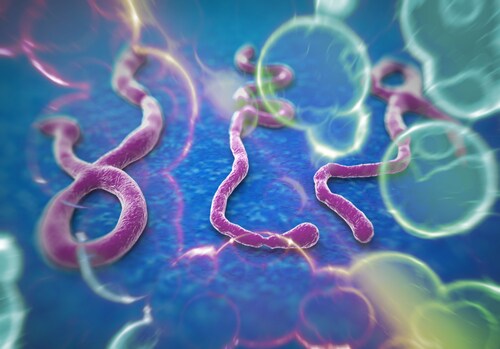 The Ebola virus (EBOV) is a member of the Filoviridae family and causes severe hemorrhagic fevers. EBOV ribonucleoprotein complex includes the filovirus-specific VP30 protein. Dephosphorylated VP30 is critical for transcription (but not replication) activity in the EBOV polymerase. Ilinykh et al. developed a small molecule inhibitor that specifically targets protein phosphatase 1 (PP1), a class of enzyme responsible for the dephosphorylation of EBOV VP30. In doing so, they demonstrated that it may be possible to inhibit EBOV replication.1
The researchers immunoprecipitated FLAG-tagged VP30 expressed in 293T or Vero-E6 cell lines (derivatives of human embryonic kidney cells and primate kidney cells, respectively) and analyzed expression using immunoblotting with anti-FLAG antibodies. They used reversed-phase high-performance liquid chromatography (HPLC) on a microcapillary column C18, coupled on-line with nano spray and an LTQ Orbitrap XL hybrid ion trap–Orbitrap mass spectrometer (Thermo Scientific), and measured the peptide spectra against the NCBI human protein database. The results identified new phosphorylation sites on EBOV VP30, Threonine 143 and Threonine 146.
Previous studies by the same author show that PP1 activates the human immunodeficiency virus 1 (HIV-1) and expression of nuclear inhibitor of protein phosphatase 1 (NIPP1), whereas a short central domain of NIPP1 (cdNIPP1) inhibits HIV-1 transcription. Therefore, Ilinykh et al. applied a similar model to Ebola and were able to demonstrate that co-expression of cdNIPP1 in 293T cells shows similar dephosphorylation effects.
To confirm the relationship between PP1 and EBOV VP30 dephosphorylation, the researchers then generated a PP1α knockdown in a Vero-E6 cell line and used this to visualize the downstream effects on EBOV transcription. A luciferase assay showed a significant increase in transcription, indicating PP1 involvement in regulating EBOV through VP30 phosphorylation.
Ilinykh et al. are in the unique position of having developed a PP1-targeted small molecule, 1H4. The small molecule targets the RVxF binding site of PP1 to inhibit HIV-1. The team subsequently developed three derivative compounds of 1H4 for the current study: 1E7, 1E7-03 and 1E7-04. To confirm that the 1E7 family of compounds interacts with PP1, they synthesized an analog of 1E7 with an unsubstituted terminal NH2 group that they used to couple the compound to N-hydroxysuccinimide-Sepharose beads. Analysis of the enzyme incubated with the 1E7 analog by mass spectrometry showed a specific association of PP1 to the beads with the immobilized 1E7 analog.
The current study demonstrates that 1E7-03 strongly inhibits replication of EBOV and provides evidence that the molecule increases phosphorylation of EBOV VP30. Ebola virus is currently rampant throughout parts of Africa and few, if any, treatment options exist for this deadly virus. It is therefore exciting that Ilinykh et al. have successfully produced a small molecule with effective, targeted PP1 inhibition that appears to be a viable approach for developing an effective antiviral.
Reference
1. Ilinykh, P., et al. (2014) "Role of Protein Phosphatase 1 in Dephosphorylation of Ebola Virus VP30 Protein and Its Targeting for the Inhibition of Viral Transcription," The Journal of Biological Chemistry, 289(33) (pp. 22,723–38), doi: 10.1074/jbc.M114.575050.
Post Author: Miriam Pollak. Miriam specialised in neuroscience as an undergraduate but traded in lab work for a post graduate degree in science communication.
She has since had a career that has spanned science communication, science education and communications management.
However, Miriam has found her bliss balancing her love of writing and disseminating medical research with managing a multimillion dollar research budget for a childhood cancer charity in Australia.