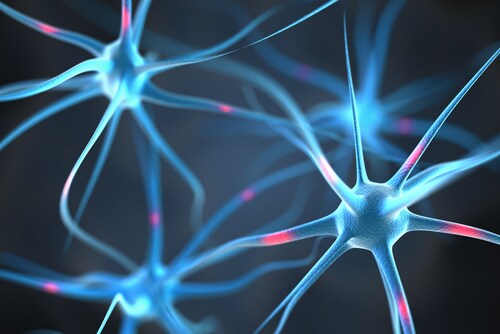 Examining the complex cellular metabolic pathways in neurons from patients with Alzheimer's disease (AD) has uncovered potential areas for therapeutic discovery. Moore et al. (2015) recently demonstrated that the metabolism of amyloid precursor protein (APP), a protein giving rise to the Aβ peptide fragments in amyloid plaque that are hallmarks of the disease, affects another AD biomarker, tau protein.1 Neurofibrillary bundles of the hyperphosphorylated form of tau protein are primary markers of AD on biopsy.
The researchers chose to investigate the potential role of APP protein metabolism in the regulation of tau protein by using induced pluripotent stem cell (iPSC) preparations from patients with familial forms of Alzheimer's disease (fAD). In such cases, scientists have already discovered (and mapped) the genetic causes of AD. The cases of fAD studied have included mutations in PSEN1 affecting presenilin, along with APP mutations and duplication. Using fibroblasts collected from skin biopsies, the team induced the iPSC cultures to develop into neurons. From these, they generated cortical excitatory neurons complete with the fAD mutations associated with each form of familial disease. Moore et al. could then replicate aspects of AD via in vitro culture.
First, the researchers examined APP and tau protein generation in culture. They used various methods, including Western immunoblotting, RT-PCR and proteomic analysis to characterize the proteins produced by the iPSCs in culture. For the proteomic analysis, they prepared samples using immunoprecipitation and magnetic bead separation in a KingFisher Flex magnetic particle processor (Thermo Scientific) before examining the samples via MALDI-TOF/TOF proteomic analysis.
The scientists found increased tau protein release (total and phosphorylated) from iPSC cultures where APP was either mutated or increased in genomic abundance through trisomy or genetic locus duplication. These cultures also increased abundance of Aβ42, a major constituent of cerebral amyloid plaque. In contrast, PSEN1 mutant cells did not increase total or phosphorylated tau in solution.
Moore et al. then examined the effect of secretase activity of tau protein levels, looking specifically at β- and γ-secretase that cleave APP into the smaller peptides from which Aβ42 forms. They found that although inhibition of these two secretase enzymes reduced the abundance of extracellular Aβ peptides, the inhibition of γ-secretase activity (using DAPT) increased tau levels. This was not observed when they inhibited β-secretase; in that case, tau protein levels declined. Tau protein levels did, however, decline when treated with the γ-secretase modulator E2012.
Further studies on γ-secretase modulation using proteomic analysis showed that inhibition of enzyme activity (DAPT) reduced the release of APP cleavage peptides into the extracellular medium, altering ratios of the peptide species with each other. The modulation of γ-secretase activity also altered APP peptide release, albeit in a different pattern. The researchers found this correlated with significantly reduced tau protein levels, with a reduction in phosphorylation not seen with DAPT treatment of the neuronal cultures.
As a further elucidation of the processes at work in the in vitro system, the researchers examined MAPT (microtubule-associated protein tau) transcription by RT-PCR and found no differences in expression, thus suggesting that the involvement of APP metabolism in tau regulation arises through post-transcriptional events.
From the data, Moore et al. conclude that the pathology of AD strongly implicates APP metabolism acting upon tau protein as a causative factor in the progression of the disease. They suggest that their results implicate modulation of γ-secretase activity as a potential therapy for many forms of AD.
Reference
1. Moore, S., et al. (2015, May) "APP metabolism regulates tau proteostasis in human cerebral cortex neurons," Cell Reports, 11 (pp. 689–96), doi: 10.1016/j.celrep.2015.03.068.
Post Author: Amanda Maxwell. Mixed media artist; blogger and social media communicator; clinical scientist and writer.
A digital space explorer, engaging readers by translating complex theories and subjects creatively into everyday language.