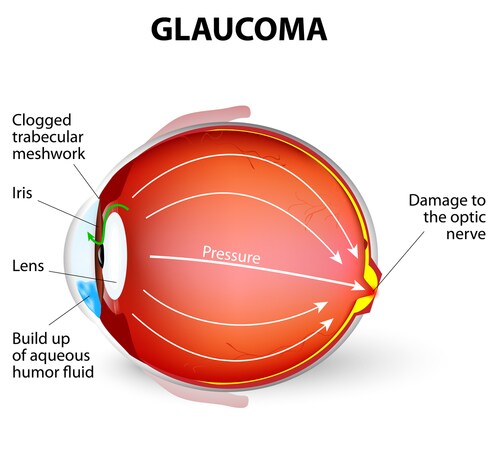 Retinal ischemia and reperfusion (I/R) injuries play a role in ocular disease and may result in visual impairment or blindness. Because the dysregulation of post-translational modifications (PTMs) carried by histones has been linked to human disease, researchers have recently turned to linear ion trap−Orbitrap hybrid tandem mass spectrometry (MS/MS) to explicate the relationship between modified histones and the neurovascular degeneration associated with I/R injury.
To do this, Zhao et al. (2014) extracted histones from both I/R-injured and non-injured retinas harvested from laboratory rats.1 They prepped the samples and subjected them to two-dimensional analysis by SDS-PAGE. The histones from the I/R-injured retinas revealed alterations in the modified histones at five different spots in the gel (indicated by spot size changes and tailing). To elucidate the specific histone modifications impacted by retinal I/R injury, Zhao et al. used quantitative proteomics analysis. They subjected the samples to Arg-C digestion, followed by nano liquid chromatography electrospray ionization MS/MS using an LTQ Orbitrap XL hybrid ion trap−Orbitrap mass spectrometer (Thermo Scientific). The team relied upon Proteome Discoverer Software (v1.3.0.339, Thermo Scientific) for data processing. They performed this workflow in quadruplicate in order to demonstrate its high reproducibility.
The scientists detected 236 distinct peptides obtained from histones H1, H2A, H2B, H3 and H4, along with their variants. Of these, 143 peptides carried between 1 and 7 PTMs (acetylation and methylations, mostly on N- and C-terminal regions), for a total of 131 unique PTMs. The distribution was as follows: 37 on H1, 34 on H2A, 16 on H2B, 27 on H3, and 17 on H4. A full 34 of these (7 on H1, 13 on H2A, 1 on H2B, 7 on H3, and 6 on H4) demonstrated significant alteration in I/R-injured retinas, as compared to the control retinas; this represents 26% of the total histone PTMs identified in this study. The team used Western blotting to confirm these results and achieved good consistency. They also noted significant upregulation of markers (H4K20me2 and γ-H2AX) specifically linked to the DNA damage signaling pathway, suggesting that retinal I/R injury results in clinically relevant DNA damage.
The researchers also evaluated co-existing modifications residing on single peptides and determined that, of 143 co-existing PTMs, 27 (3 on H1, 5 on H2A, 1 on H2B, 9 on H3, and 9 on H4) demonstrated significant alteration in injured samples versus controls. Although digestion with Arg-C precludes comprehensive explication of the crosstalk and histone coding that occurs with co-existing PTMs, they did note a synergistic effect between PTMs occurring on the same histone tail, specifically on H3 and H4. The team called for further evaluation of the biological significance of co-existing PTMs, particularly as they relate to ocular disease.
Reference
1. Zhao, X., et al. (2014, April) "Comparative Proteomic Analysis of Histone Post-Translational Modifications upon Ischemia/Reperfusion-Induced Retinal Injury," Journal of Proteome Research, 13(4) (pp. 2175–86), doi: 10.1021/pr500040a.
Post Author: Melissa J. Mayer. Melissa is a freelance writer who specializes in science journalism. She possesses passion for and experience in the fields of proteomics, cellular/molecular biology, microbiology, biochemistry, and immunology. Melissa is also bilingual (Spanish) and holds a teaching certificate with a biology endorsement.