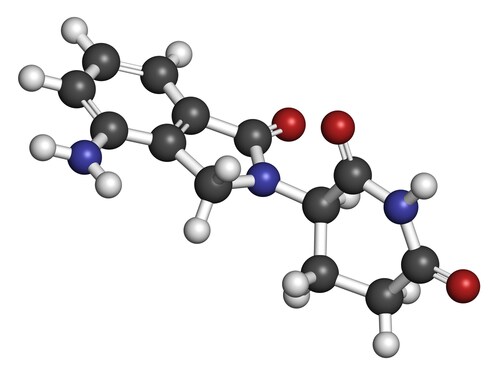 Krönke et al. (2015) recently used quantitative proteomics and mass spectrometry analysis to examine the mode of action behind lenalidomide's impressive efficacy in treating del(5q) myelodysplastic syndrome (MDS).1 In conjunction with molecular techniques, they demonstrated that the immunomodulatory (IMiD) agent targets casein kinase 1A1 (CK1α) for proteasomal degradation via ubiquitination.
The del(5q) MDS patients show deletion of a region of chromosome 5q that contains CSNK1A1, which is responsible for encoding CK1α. This particular MDS is a disease of haploinsufficiency, where the heterozygous loss leads to β-catenin accumulation and stem cell expansion in affected cells. However, cells lacking the chromosome are also unusually sensitive to lenalidomide, undergoing selective apoptosis in vitro when treated with the drug.
Along with thalidomide and other members of this phthalimide-based drug family effective in treating multiple myeloma, lenalidomide targets cell proteins for proteasomal degradation through E3 ubiquitin ligase CUL4–RBX1–DDB1–CRBN (CRL4CRBN) action. The pathway for this reaction involves lenalidomide binding to CRBN, the substrate adapter for the ligase that modulates onward substrate specificity. The researchers sought to characterize the key players involved in this reaction to explain lenalidomide's ability to induce cytogenetic remission in more than 50% of patients with del(5q) MDS.
Using del(q5) myeloid cell line KG-1, the research team employed SILAC (stable isotope labeling of amino acids in cell culture) to explore the proteome following lenalidomide treatment, focusing particularly on changes in CRL4CRBN substrates and ubiquitination. Following liquid chromatography–mass spectrometric (LC-MS) analysis using an Easy nLC 1000 system coupled with a Q Exactive mass spectrometer (both Thermo Scientific), the team saw alteration in only 7 out of a potential 13,061 sites identified by KEGG analysis. This affected the abundance of three proteins, including CRBN (decreased ubiquitination) and CK1α (increased ubiquitination, reduced protein abundance).
The lenalidomide-induced reduction in CK1α did not arise from changes in CSNK1A1 mRNA, either in various human cell lines or in blood cells gathered from del(q5) MDS patients receiving the IMiD agent. However, in vitro co-treatment with proteasome inhibitors or CRISPR-Cas9 genetic editing to inactivate CRBN abolished the lenalidomide-induced reduction in CK1α levels. Furthermore, co-immunoprecipitation studies in KG-1 cells showed that CK1α only associated with CRBN following lenalidomide treatment, and that this association was necessary for ubiquitination.
Next, the research team explored the mechanisms behind cell sensitization to lenalidomide. Using primary human CD34+ cells, Krönke et al. showed that reducing or abolishing CK1α expression caused cell apoptosis through the removal of p53 inhibition and subsequent downregulation of Wnt signaling-mediated β-catenin destruction. Treatment with lenalidomide enhanced this effect; however, the researchers could rescue CD34+ cells from del(q5) patients by making them overexpress CSNK1A1, suggesting that haploinsufficiency is indeed the reason for sensitization to the drug.
The team further explored the mechanisms behind this unique sensitization using an in vivo mouse model expressing human CRBN. Normally, mice show no response to IMiD treatment; levels of CK1α did not decrease in response to treatment with lenalidomide in wild type animals. However, Krönke et al. found that transfection with human CRBN restored lenalidomide sensitivity in murine Ba/F3 cells. Further molecular studies confirmed sensitivity of Csnk1a1 haploinsufficient murine cells to lenalidomide in the presence of the human CRBN-equivalent gene in the mouse. Structural comparisons between the human and mouse proteins showed minor amino acid substitutions that confer drug resistance, possibly explaining the lack of growth defects seen in offspring of pregnant mice treated with thalidomide prior to its disastrous launch in human clinical medicine in the early 1960s.
Finally, Krönke et al. assessed substrate specificity across the phthalimide drug family, looking at response to treatment of MDS-L cells with lenalidomide, thalidomide, pomalidomide and experimental CRBN-binding compound CC-122. Using a 6-plex and 10-plex quantitative tandem mass tagging (TMT; Thermo Scientific) approach, the researchers examined cell lysates by liquid chromatography-mass spectrometry (LC-MS3) on an Orbitrap Fusion mass spectrometer coupled with a Proxeon Easy nLC 1000 (both Thermo Scientific). Sample processing and analysis took place at the Thermo Fisher Scientific Center for Multiplexed Proteomics at Harvard Medical School. Only lenalidomide treatment reduced levels of CK1α, as shown by LC-MS and confirmed using Western immunoblotting. Furthermore, only lenalidomide treatment impacted Wnt signaling through removal of inhibition by CK1α, as seen by increased levels of β-catenin.
Krönke et al. conclude that the data presented showing lenalidomide specificity of action in del(q5) MDS suggest that thalidomide-related drugs will have increasing importance in clinical treatment as the ability to target substrates for degradation evolves.
Reference
1. Krönke, J., et al. (2015) "Lenalidomide induces ubiquitination and degradation of CK1a in del(5q) MDS," Nature, 523 (pp.183-8)  doi:10.1038/nature14610.